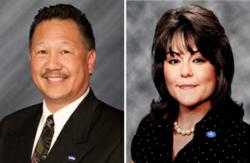 Judy Morris and Gary Wong bring profound networking experience to LeTip, and have a deep understanding of LeTip's Structured Program.
Mesa, AZ (PRWEB) September 13, 2011
LeTip International, the premier professional leads organization, is pleased to announce that Gary Wong and Judy Morris have joined the ranks of LeTip Regional Directors. Morris has been appointed to the position of Regional Director for Los Angeles, CA and Wong to Regional Director, San Francisco/San Jose, CA.
LeTip Regional Directors' core responsibilities are to motivate and support members as they build their businesses through referral networking. Management of current and new chapters includes training, seminars, and mentoring in all aspects of lead generation.
Kim Marie Branch-Pettid, President and CEO of LeTip International stated, "We are delighted to welcome Gary Wong and Judy Morris to the LeTip family. In the short time they have held their positions, they have brought enthusiasm and solid support to their members. Judy Morris and Gary Wong bring profound networking experience to LeTip, and have a deep understanding of LeTip's Structured Program."
About Judy Morris
Known as one of the most visionary and dynamic executives in the Los Angeles business community, Judy Morris has over a decade of experience in the financial services industry, and an innate understanding of the local business environment. Highly regarded as public speaker and leader of transformational seminars, Morris is passionate about showing business owners how to take their success to the next level. "LeTip is the best networking organization I have ever had the privilege to be involved with." said Morris. "The members are so professional and do business with such integrity. It is an honor to represent such an organization and I look forward to empowering and enabling my region to reach their goals and realize their professional dreams!"
Morris, who is also known for her compassion and dedication to her community, has served on the board of advisors for a leading local nonprofit organization and frequently volunteers time lecturing and mentoring at risk youth.
About Gary Wong, D.C.
Gary Wong, D.C, a well-known and loved chiropractor in Fremont, CA, was born and raised in the Bay Area. He graduated in 1993 from the Life Chiropractic College West as a Doctor of Chiropractic. Wong has also earned Associate Arts degrees in Digital and Commercial Electronics from Chabot College, Hayward, CA. Dr. Wong has been in private practice serving the Tri-Cities area for the past 18 years and was recently voted The Best Chiropractor in Fremont 2011. Gary Wong's passion, drive and determination to succeed was instilled at an early age when he began lifelong training in the martial arts. He has attained several Black Belts in multiple styles and has held a Masters Teaching Certificate for over 30 years. When asked about his involvement with LeTip, Dr. Wong responded, "My background as a student and teacher in the martial arts, and as a chiropractic doctor, (over 30 straight years of teaching and educating all ages and backgrounds), have given me much insight and knowledge about how people and the world operates. This experience provides me with the ability to help a wide diversity of LeTip business owners grow and prosper."
With all the accolades Gary Wong has earned, he remains humble. Wong gives credit to those around him: his wife of twenty years, and all his teachers past, present and future who continue to shape his life and his vision.
About LeTip International:
LeTip International is the world's largest, privately owned, professional business leads organization. Since 1978, LeTip's proven programs, business survival skills, and motivational messages have helped well over 100,000 members build business success through personal referrals. LeTip Chapters meet weekly to exchange qualified leads, build solid business relationships, develop strong presentation skills and become proficient networkers. Only one representative of any given profession is accepted into a chapter and members are chosen for their occupational expertise.
For more information visit http://www.letip.com.
###