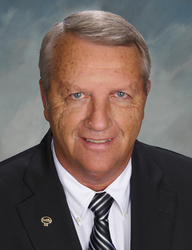 Mike is a goal setter, and someone who shares our company's passion for small business
Mesa, AZ (Vocus) October 13, 2010
LeTip International, a leader in the word-of-mouth referral industry, has announced the appointment of Mike Wells as Regional Director for Arizona. Wells will assume responsibility for the leadership, growth and support of new and existing chapters throughout the state.
Wells brings 20 years of business experience across both the private and non-profit sectors. "Mike is a goal setter, and someone who shares our company's passion for small business," said LeTip CEO, Kim Marie Branch-Pettid. "He understands referral networking strategies inside and out, and he is precisely the kind of leader we need to guide our Arizona chapters."
In his new role, Wells will continue to use his exceptionally strong leadership skills and knowledge of member-based organizations to encourage robust growth throughout the region. "This is a critical time for small business owners, independent sales people and professionals—not just in Arizona, but throughout the country," said Wells. "I know LeTip's structured B2B networking program works, because it has worked for me. It can make a big difference to business survival by providing real solutions and qualified leads for LeTip members. The many testimonials we receive reaffirm the strength and positive energy that LeTip chapters can bring to the small business arena."
Prior to joining LeTip, Wells held the position of VP of Membership Sales – Ahwatukee Chamber of Commerce, where he increased the membership by 135%. His formidable sales and business development experience includes ownership and operation of nine Waffle House franchise locations throughout the metro-Phoenix area. Prior Waffle House experience includes the position of Waffle House Regional Sales Manager with responsibility for 35 + stores and 300 employees.
For more information on joining a LeTip chapter in your region, visit http://www.letip.com.
About LeTip International:
LeTip International, headquartered in Mesa, AZ, is the world's largest, privately owned, professional business leads organization. Since 1978, LeTip programs have helped over 60,000 members throughout the United States and Canada, to build business success through personal referrals. The Guiding Principle of LeTip International is to intentionally help one another prosper through mutually beneficial relationships, and thus create an economy that rewards everyone.
LeTip International's structured program set the standard in the word-of-mouth referral industry. Members are known for their professionalism, dedication, and loyalty to one another. LeTip Chapters meet weekly to exchange qualified leads, build solid business relationships, develop strong presentation skills and become proficient networkers. Only one representative of any given profession is accepted into a chapter, and members are chosen for their occupational expertise. For more information visit http://www.letip.com
# # #