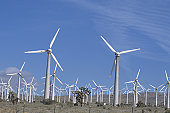 San Francisco, CA (Vocus/PRWEB) June 07, 2011
To celebrate how beautiful green energy can be, Scott Chernis is creating a photo essay by featuring the many wind farms located throughout California. The primary locations of the photos are in the San Gregorio Mountains, near Palm Springs, and Altamount Pass, near Livermore. For the past four years, he has been putting his efforts into creating breathtaking and high quality photos of the wind turbines.
"Wind power is plentiful, renewable and sustainable," said Scott Chernis. "Wind turbines are both beautiful and interesting to photograph."
A renowned Bay Area photographer, Scott Chernis has been busy with his photo essay project of photographing wind turbines in California over the past four years. He has worked with 3 Degrees, Inc., a Bay Area company that helps organizations buy, sell and market environmental commodities such as Renewable Energy Certificates (RECs) and verified carbon offsets.
His passion for photography impelled him to widen his scope and creativity, leading him to work on the wind turbines to produce magnificent shots that are truly professional and world-class. These wind turbines are a great source of photographs for Mr. Chernis, and something he felt he needed to share with others.
In addition to his photo essay, Mr. Chernis is busy with a wide range of corporate events and recently concluded photography for Pow Wow, an international convention held this year in San Francisco which focuses on travel and tourism to the United States.
For more information about Scott Chernis' services, call him at (415) 290-2363 or view his work on the web at http://www.scottchernis.com.
About Scott Chernis
Scott Chernis is a San Francisco Bay Area professional photographer that specializes in graduations, food, jazz and performance, and event photography. Scott Chernis serves the San Francisco Bay Area.
###