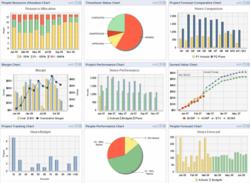 Sterling, VA (PRWEB) August 08, 2012
Unanet Technologies has agreed sponsored the PS Village 2012 Professional Services Benchmark Study. "We are pleased to share this invaluable research to enable you to compare your organization's performance against your peers and identify areas for improvement in your operations, project delivery, human capital, and financial management," commented CEO & Founder, Fran Craig.
The benchmark report, which surveyed 150 service executives in the technology sector, provides detailed insight into key performance indicators (KPIs) and metrics for services organizations.
Nineteen roles across the professional services organization (in management, delivery, sales, and operations) were surveyed to compile insights that help leaders more effectively run a professional services organization.
Unanet has helped more than 900 project-based services organizations automate processes across the bid-to-bill lifecycle, supporting budgeting, forecasting, planning and tracking. In addition to lowering administration costs and improving efficiency, Unanet provides real-time insight into the key metrics that drive performance. This is essential, both to optimize short-term success, and for longer-term process maturity and improvement.
Fran Craig commented "Now, by benchmarking against peers using the data in the PS Village report, and comparing performance in key areas, you can identify new improvement strategies for opportunities and priorities, taking into account different sizes of organizations, and many other factors. We believe that this 2012 PS Village Professional Services Industry Benchmark Report represents an invaluable resource for your organization."
To download a copy of the report, visit: http://www.unanet.com/content/download-white-papers-and-other-information