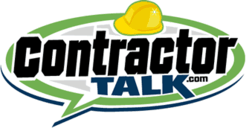 We have created a niche social network that offers product reviews, customizable toolboxes, an area for showcasing projects, and more.
Houston, Texas (PRWEB) April 26, 2011
Contractor Talk 2.0 is an enhanced social network for professional contractors. Contractors can join the site free, ask questions, get feedback, leave reviews and get product recommendations from their peers.
With over 700,000 absolute unique visitors a month, ContractorTalk.com is the most active community for professional contractors. Nathan Wingate, founder of ContractorTalk.com has expanded the site and made it more interactive. "We have launched a new version of ContractorTalk.com that builds upon the already successful forum-only model and adds many new features transforming the site into a niche social network."
The new site launches Tuesday, April 26th 2011at: http://www.contractortalk.com
Features include:

Forums - to discuss business and get advice from other professionals
Blogs - to share stories and experiences
Projects - to show off completed projects with photos
Reviews – to find and rate tools of the trade
Customizable Toolbox –show off your toolbox and see what other contractors are using
Roofing contractors, landscaping contractors, plumbers, electricians, and even solar energy contractors can find and share valuable information in this online community.
"We have created a niche social network platform that will offer product reviews, customizable toolboxes, an area for showcasing projects, and many other engaging tools. With all of the new tools made available to our already engaged membership, we will see continued growth and expansion in the B2B sector, serving professional contractors," says Wingate.
Take the tour here: http://www.contractortalk.com/community/tour
About Contractor Talk
Contractor Talk™ is owned and operated by Escalate Media LP.
Escalate Media is a media company serving the construction, home and garden, shopping, and technology verticals. Our unique network includes some of the most visited websites in the industry including ContractorTalk.com, DIYChatroom.com, ElectricianTalk.com, PaintTalk.com and many others.
If you're a professional contractor please take some time and browse through our site. We have worked hard to bring together a number of resources to help you in your business and trade.
If you are interested in promoting a product or service to professional contractors or do it yourself homeowners then Escalate Media can help you meet your goals. Every month our sites reach hundreds of thousands of professional contractors and homeowners and we offer targeted advertising.
For more information about advertising, visit Escalate Media's Advertising Section.
###