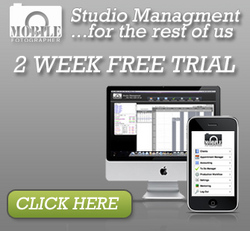 I wanted something that was as easy to use and as accessible as Facebook and Gmail.
(PRWEB) June 10, 2010
When studio management software was first introduced to the professional photographic industry, it was just like every other kind of software around. You paid for the software, downloaded to your one computer and ran your business off of it. With the introduction of the iPhone, iPad, Droid, etc. and the ubiquitous availability of WIFI hot spots, studio management software has completely changed.
Andrew Funderburg, Lead Devoper at the Portland, OR studio management software company, Mobile Fotographer has seen a complete change in their client needs. "What our clients are asking for is software that works like Gmail. No matter where you go, or what device you access it on, all of your data is the same. This shifts us from traditional desktop applications to web applications. Clients want their business to be just as easy to access as Facebook."
Mobile Fotographer actually built the phone version of their software first. They began with a Web Kit version, the standard web browser created by Apple Computers. This web standard has been adopted by all major cell phone makers, including the iPhone, Droid, Palm Pre, and soon to include the Blackberry with the release of their new phone line. Only after creating the mobile version of their software did Mobile Fotographer create a desktop version. But, again, the desktop version is browser based, so no software needs to be installed. This enables professional photographers to access their information from a hotel computer, friend's computer, basically any computer connected to the Internet.
Kevin Focht, Creative Director of Left Turn Studio and co-creator of Mobile Fotographer, says, "We just needed something that worked the way we do. I needed something to communicate with my staff while I'm out on the road - whether I'm in New York doing a commercial shoot, or shooting a wedding in Italy."
As photographers become more and more mobile, their software will need to keep up with them. It will be innovative companies like Mobile Fotographer that capture the interest of professional photographers.
###