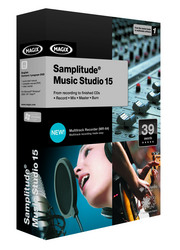 Toronto (Vocus) June 4, 2009 –
Samplitude Music Studio from MAGIX – the complete digital solution for those who want to record, mix, master and burn music, either your solo recordings or with a band – comes out on June 3 in its latest version. This software brings a genuine studio feeling thanks not only to the variety and exactness of editing that the entire family of Samplitude products.
The new version 15 especially distinguishes itself thanks to multiple new/improved features:
· Multi-track recorder MR-64 and the MIDI Step Recording.
· The Manager Section, optimized for simple editing, can now also be used to import MAGIX Soundpools also contributes to the program's ease.
· The new virtual instrument BeatBox 2 plus delivers the perfect beat for each track, making sure the fun doesn't stop.
· Samplitude Music Studio 15 from MAGIX offers top audio recording, editing and mastering for the price of only $99.99
Multi-track virtual studio
The dream of having your own sound studio has never been easier to attain for musicians than today. All you need is a laptop, and any garage can be turned into a recording studio with all the needed equipment. Even getting your hands on mixing boards, earlier reserved only for professional studios, is no longer a problem. The new multi-track MR-64 recorder doesn't just look like an analog recorder – it also works like one. It combines trusty analog operation with all the advantages of a PC system. Bands can tinker with the levels of the MR-64 directly during rehearsal to get the perfect sound.
Improved Manager Section results in simpler workflow
The Manager Section in Samplitude Music Studio has been redesigned. The managers combine the most frequently used control and management functions for markers, tracks, ranges, VST instruments, objects, etc. and control Soundpool loops via the new Soundpool Manager, which deliver hundreds of rock sounds.
The Manager Section can be positioned freely and docked to different locations in the user interface, just like the peak meter. The new "BeatBox 2 Plus1"is especially interesting for electronic music artists – this is a flexible tool for creating drum lines a cool grooves. In combination with the included Vita, Revolta 2 and any VST plug-in, complete productions can be created without using any real instruments.
MIDI step recording – step-by-step through complex recordings
The new "Step recording mode" is a real relief for creative musicians who would like to record especially difficult passages using a MIDI keyboard. Using this mode, you can record technically difficult passages step by step. After every note is played, recording pauses and waits for the next note. Later editing of every note within the recorded elements is possible just like in case of any other MIDI object.
The most important features of MAGIX Samplitude Music Studio 15

100% sound neutrality & fidelity
Hybrid Audio Engine
More efficiency through object-oriented workflows
Well-priced complete package with maximum functionality
The most important new tools and features:

Multi-track recorder (MR-64)
BeatBox 2 plus
Improved Manager Section with a new Soundpool Manager
Even easier user interface and workflows
###