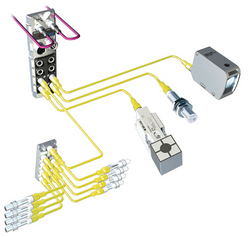 Florence, KY (Vocus) March 5, 2009
Balluff's new IO-Link™ system enables quick and easy expansion or simplification of Profibus and Profinet networks. Users and OEM equipment builders can now achieve a higher level of flexibility and easier system modification for their networks at significantly lower costs.
The Balluff System:
A Balluff IO-Link Expansion module attaches directly to the Profibus or Profinet network, either as a new node or by substituting it for an existing node. Then, using standard low cost 3-conductor M12 cordsets, attach up to four intelligent IO-Link sensors up to 20 meters away from the Balluff IO-Link expansion module. Hardware includes network expansion modules, sensor hubs, standard M12 non-shielded 3-conductor cordsets, standard sensors, and intelligent IO-Link sensors. These sensors are available in a range of different sensing technologies, including distance feedback, RFID, pressure monitors, etc. This provides less expensive Profibus/Profinet solutions for automation customers to build and retrofit machines with an overall cost savings in components, cabling, installation and integration effort.
For example, one Balluff Profibus IO-Link expander and 4 discrete sensor hubs can replace 5 discrete Profibus modules, with 30-40% savings including; network components, network cabling, integration time, while providing 78 inputs. One expansion module and a combination of IO-Link sensors and/or sensor hubs can replace up to five nodes, reducing expensive network cabling and time consuming controller configuration without the need for node addresses or expensive Profibus chips or software.
Sensor Hubs
The heart of the Balluff system is the sensor hubs which allow connection of 16 standard discrete sensors to the network per hub. Up to four hubs per expansion module can be put on each node, giving a grand total of 76 sensors per Profibus node.
Significant savings in setup time, system complexity, and cost
The Balluff IO-Link Solution will provide significant savings in components, in the installation phase, in system integration and in system flexibility. It will save money in planned and unplanned downtime with centralized parameter storage, which can be used for automatic re-parameterization of replacement IO-Link sensors - you can swap an intelligent sensor just as easy as a discrete sensor. And as a bonus, Balluff IO-Link sensors reflect Balluff's decades of sensor design leadership.
Download high resolution press image:
http://www.balluff.com/NR/rdonlyres/8D44D7AC-792B-4C11-8E8C-FE2CCC328CA8/0/200901_IOLink300dpi.jpg
See full press release online:
http://www.balluff.com/Balluff/us/NewsChannel/Press+Releases/en/2009-01-IO+Link+Press+Release.htm
Editors: Please use this link for attribution:
For further information, visit: http://www.balluff.com/iolink
Balluff Inc., the U.S. subsidiary of Balluff GmbH, Neuhausen, Germany, is a leading manufacturer of a wide range of inductive, optical, capacitive and magnetic sensors as well as linear position transducers and ID systems. Balluff products for OEM and factory floor solutions are used to control, regulate, automate, assemble, position, and monitor manufacturing, assembly, and packaging sequences for industries including metalworking, automotive, plastics, material handling, wood processing, aerospace, electrical, and electronics.
Editors: please contact Vestal Simms, (1-800-543-8390) for clarifications and additional information, or e-mail to vestal.simms (at) balluff.com
Direct reader service inquiries to:
Press Manager
Balluff Inc.
8125 Holton Drive
Florence, KY 41042
1.800.543.8390
http://www.balluff.com
In Canada only, contact Norman J. Clarke, President, Balluff Canada, 2840 Argentia Road, Unit # 2, Mississauga, ON L5N 8G4, Phone 1-800-927-9654 or Tel: 905-816-1494, 905-816-1411
###