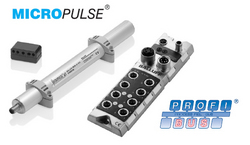 Florence, KY (Vocus) March 5, 2010
Integrating multiple position sensors into a Profibus machine control network can be a complex and expensive task. Balluff's Profibus/Micropulse interface block simplifies the process and drastically reduces cost by enabling up to four Micropulse linear position transducers to be connected on a single Profibus node, using the economical digital START/STOP interface. In addition, the Profibus/Micropulse interface block has four extra inputs for either discrete or analog sensors.

Connect up to four economical Micropulse START/STOP linear transducers
Use up to 15 position magnets on each Micropulse transducer
Accepts Micropulse transducer output types P111, P110, M1, and P1
Provides detailed diagnostic feedback over Profibus network
Rugged metal housing withstands demanding applications
Save money on your linear position applications
This interface block is ideal for manufacturing processes that require multiple linear position feedback devices, for example injection molding, metal stamping, printing, and paper handling equipment. In these applications, along with using linear position devices, there is often a need to integrate discrete sensors (inductive proxes, capacitive sensors, limit switches, etc.) and/or analog sensors (pressure sensors, photoelectric distance sensors, etc.). This block combines discrete, analog, and linear positioning devices into one Profibus node, saving time and money in installation and component costs.
Editors: Please use this link for attribution:
For more information on this new Profibus/Micropulse interface block, and other new Balluff products, visit: http://www.balluff.com/news .
Editors: For access to high resolution images, please contact Kelly Panko at Kelly(dot)panko(at)balluff(dot)com
Balluff Inc., the U.S. subsidiary of Balluff GmbH, Neuhausen, Germany, is a leading manufacturer of a wide range of inductive, optical, capacitive and magnetic sensors as well as linear position transducers and ID systems. Balluff products for OEM and factory floor solutions are used to control, regulate, automate, assemble, position, and monitor manufacturing, assembly, and packaging sequences for industries including metalworking, automotive, plastics, material handling, wood processing, aerospace, electrical, and electronics.
Editors: please contact Kelly Panko at 1-800-543-8390 for clarifications and additional information e-mail kelly(dot)panko(at)balluff(dot)com
Direct reader service inquiries to: Kelly Panko, Balluff Inc, 8125 Holton Drive, Florence, KY, Phone 1-800-543-8390, or http://www.balluff.com
In Canada only, contact Norman J. Clarke, President, Balluff Canada, 2840 Argentia Road, Unit # 2, Mississauga, ON L5N 8G4, Phone 1-800-927-9654 or Tel: 905-816-1494, 905-816-1411, E-mail: balluff(dot)canada(at)balluff.ca
###