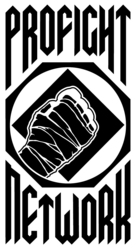 The popularity of ProFightNetwork.com and ProFightForums.com has been overwhelming
Newport Coast, CA (PRWEB) July 6, 2009
ProFightNetwork is a full feature, social networking site dedicated to professional and amateur MMA and boxing worlds. ProFightNetwork is a platform for athletes and fans alike to connect through social networking, blogs, forums, videos, pictures and more. ProFightNetwork Inc. prides itself on offering its members a unique look behind the fight scene, with candid fighter interviews, training tips from the pros, video clips, live events and the list goes on. The site offers an online store to purchase PFN gear and the ability to purchase almost any other MMA or boxing gear. Members will have access to a long list of ProFightNetwork Certified Gyms and Partners that offer their upgraded member base unique discounts and services. ProFightNetwork is proud to be the home of Fight Net Radio, hosted by Chris Greenman and renowned radio personality, Lee Honish. Members can listen to podcasts from almost anywhere and anytime they choose. Fight Net Radio is the foremost authority on MMA and boxing news, and most of all, entertainment.
"The popularity of ProFightNetwork.com and ProFightForums.com has been overwhelming," says Chris Greenman, President of ProFightNetwork Incorporation. "We are excited to introduce a site that will push the limits by offering new and exciting features for our members. We want to bring the fans and the fighters together by providing unique content and never before seen entertainment to the fight world. This is only the beginning; in fact, we had to leave out most of our programs on launch just because of our fear of them being copied right away. Therefore we have been getting things signed and trademarked before it hits the streets, but the fight world and corporate America should be excited on what is to come."
ProFightNetwork has surrounded itself with hand-picked strategic partners and owners to deliver a leading edge professional fighting online resource. Some partners we can mention at this time are Robert Drysdale (who was hand picked by UFC Hall of Famer, Randy Couture, to be the lead Brazilian Jui Jitsu instructor at his Extreme Couture and now heads his own mega gym affiliate program), Fonality Inc., The U.S. Air Force, and many more to be named later.
Unlike many other fight websites, the corporate strategy of ProFightNetwork is built upon the commitment to the overall success of the corporation, certified partners and affiliates, not anyone's personal interest. ProFightNetwork was built for its members to be a one-stop shop for all combat sports interest, to give cutting edge content, and incorporate some of the world's best proven company strategies to save its members money and give them a true place to network. PFN's strategy is to give their members what they want in these changing technological and economical times.
Written by Patrick Schneider Ph: (858) 457-7674 Cell: (858) 205-8995 / Elite Broadcast Media
Related articles and press releases
http://www.mmdnewswire.com/ufc-the-iceman-5131.html
http://www.einpresswire.com/article/32051-ufc-legend-chuck-quot-the-iceman-quot-liddell-seems-to-have-conceded-defeat-to-his-former-uso-?category=media
http://forums.digitalpoint.com/showthread.php?t=1351610&highlight=chuck liddell uso chris greenman#post11478558
http://www.myspace.com/mmajacked
http://www.cyberboxingzone.com/cbzforum/showthread.php?p=121118#post121118
http://ballhype.com/video/chuck_liddell_part/
For more information about ProFightNetwork, please contact Steve Haase: steve (at) profightnetwork (dot) com / a division of ProFightNetwork Incorporated.
# # #