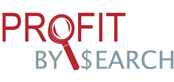 This represents a $250 value and an excellent opportunity to jump start one's internet marketing efforts.
(PRWEB) September 19, 2013
Profit By Search has helped thousands of small and large businesses in some of the most competitive regions and markets across the world dominate their local competition. How have they done it? The answer lies in the world's most popular search engine, and a technique called Paid Advertising.
How PPC Management Services can help?
Pay-per-click (PPC) advertising could dramatically increase the number of qualified visitors to a website. However, it is important to realize that these potential advantages only come with a skilfully implemented and managed PPC campaign. Hiring an experienced and successful PPC professional is essential if to enjoy the following benefits:
1. Instant results
2. Pay only for performance
3. Total control over a campaign and costs
About Profit By Search:
One of the premier providers of SEO Services, Profit By Search not only serve the purpose of increasing a client's website visibility on major search engines, but it also helps solve various technical problems of a website like providing a client with unique content to keep the website away from getting slapped by the Google Panda, improvise on methods to improve lost rankings, helps fight better with the bounce rates, maximize the rate of return on investment for advertising budget and many other such services.
SEO should be a part of every websites marketing mix, they deliver result for companies around the world so if one wants Profit By Search, India's #1 SEO Company to help with their big plans then they would take their own initiative to chat about India's finest SEO Service offerings.
Visit http://www.profitbysearch.com/ or call (888) 322-7617 for more information about the SEO Plans and other services provided by Profit By Search.