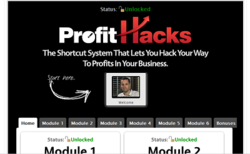 How you can get an entire week of work done in just 6 hours, using their proven shortcut strategies and "hacks."
(PRWEB) November 11, 2012
As part of his ongoing effort to help business owners and entrepreneurs worldwide turn their visions into reality, world-renowned success expert Brian Tracy is offering $2400 in bonuses to ambitious business owners who invest in the Profit Hacks course.
"Most business owners and entrepreneurs are highly-motivated, ambitious people with a vision, who often use the 'try-to-do-it-all' approach in order to bring that vision to life," Tracy said recently. "The problem is, the 'try-to-do-it-all" approach didn't work ten years ago and it certainly doesn't work now."
ProfitHacks, created by "Australia's Richard Branson" Pete Williams, is a series of shortcuts that show businesspeople how to multiply their income, working 90% less than they do currently. Tracy called the system, "the most valuable system for any entrepreneur who wants to grow, succeed and profit in business."
To encourage people to invest in ProfitHacks, Tracy is offering the following bonuses:
1. Total Business Mastery Home Study course. This 3-day e-learning course is based off Tracy's live event, which retails for $1997 and covers the skills and strategies necessary for building a thriving business in any economy.
2. Accelerated Learning Techniques System, which outlines how to learn, recall and retain more information, faster, than ever before.
3. Time Management Made Simple, Tracy's fully comprehensive training program, which contains 12 CDs comprised of his best action strategies for achieving more in less time.
4. A personally-autographed copy of Tracy's internationally best-selling book, "Eat That Frog," which details 21 great ways to stop procrastinating, improve organization, and get more done in less time.
In addition, Williams will be doing an exclusive call where he will profit hack ALL of these programs for people who invest, so they can get the most value out of each program.
"So if you're tired of hearing 'what' you should be doing, and are ready to discover 'how' to actually do it," Tracy said, "using the same resources and blueprints used by the experts to generate big profits in less time, then take action now and order ProfitHacks today.
People who are interested in learning more about ProfitHacks or Tracy's bonuses can go here: http://www.briantracy.com/files/pages/aff/ph_video.html
###
BIO
Brian Tracy is Chairman and CEO of Brian Tracy International, a company specializing in the training and development of individuals and organizations. Brian Tracy has consulted for more than 1,000 companies and addressed more than 5,000,000 people in 5,000 talks and seminars throughout the US, Canada and 56 other countries worldwide. As a Keynote speaker, seminar leader, and a success expert he addresses more than 250,000 people each year.