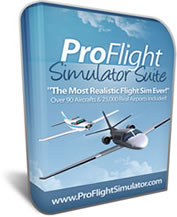 (PRWEB) February 17, 2012
Lots of people are looking for a realistic flight simulation tool. Dan Freeman has now made available his innovative flight simulation software, the Pro Flight Simulator(PFS).
Pro Flight Simulator System, with more information at proflightsimulator.com, offers realistic and good flight simulations. It comes complete with functional controls that are designed to give users a complete flying experience. It is a good flight simulation game.
Dan Freeman created the PFS System. He has been a flight simulation expert and enthusiast for a number of years. He has done deep research to create a good flight simulation system.
The controls of PFS are identical to the actual aircraft. Stunning aerial views of airports give users the same facilities and experience that pilots go through when maneuvering planes. Views from a 3D cockpit also offers life-like controls.
Pro Flight Simulator sets itself apart from other flight simulation tools with its realistic details. Users can also customize the locations, equipment, weather and other options. Pro Flight Simulator also features multiplayer support. It also works with Google maps to give users their locations compared to other players.
PFS System renders real life locations. This makes the users have a realistic flight. The system also has 120 different planes that users can play. The planes available are commercial planes, historical planes, military aircraft, helicopters and more. There are also 20,000 airport locations included in PFS. Users can land an aircraft at any major airports or at a small airport in a remote location.
Here are some of the features of Pro Flight Simulator:

Multiplayer support so users can play great flying games with friends
Flight dynamics that are realistic
Joystick support - flight stick or with mouse and keyboard
Realistic planes and locations
PFS has a comprehensive number of planes, airports,and customizable options for unique flying scenarios. Players also have control of the weather. They can use weather data from NOAA service. They can control weather parameters like dew points, visibility, temperature and pressure density.
PFS System combines the education aspect of learning to fly a plane with the fun and enjoyment of flying an aircraft. The system helps users develop flying skills. Users can practice takeoffs, crashes, landings and different flying scenarios.
More details about Pro Flight Simulator can be found through this link.
###