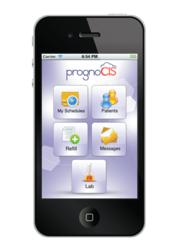 The PrognoCIS app kept the practice workflow going and did not interrupt the delivery of scheduled patient care.
San Jose, CA (PRWEB) June 10, 2013
April 2013 was a month that demonstrated a medical technology application in its finest hour. Mr. Vivek Oberoi, the Chief technology Officer of Middletown Medical, a multi-specialty group of more than 30 providers, was delighted to share his medical practice's experience using PrognoCIS electronic medical record software and iPhone application in a time of need. The usage of the "app" was designed to continue the security and safety of their patients when the practice was in a time of need.
Time Warner provides very reliable Internet Service to Middletown Medical. However, one day stands special in the memory of Mr. Oberoi when his internet was not working. Mr. Oberoi has been a long time believer in using medical technology to deliver the highest quality patient care available. Even though his internet was down, he made the executive decision to quickly assist his caregivers by instructing them to each use their smartphones and download the PrognoCIS app. PrognoCIS is the provider of electronic medical records used by Middletown Medical.
The usage of the PrognoCIS app kept the practice workflow going and did not interrupt the delivery of scheduled patient care. Middletown medical staff could access complete medical records for each patient on their iPhone while treating patients in the cliinc. The app also allowed for the electronic prescriptions to continue with appropriate warnings for drug-drug and drug-allergy interactions, ensuring patient safety.
About PrognoCIS
PrognoCIS EMR and Practice Management software is designed, developed and marketed by Bizmatics Inc., which provides clinical and business productivity suites and services to the healthcare providers market. Bizmatics' solution set includes PrognoCIS EMR, PrognoCIS Billing, Scheduling, and Patient Health Records via the Patient Portal. Operating from the heart of Silicon Valley, PrognoCIS has been developed using the latest innovations and cutting-edge Internet technology. PrognoCIS EMR and other products are used by hundreds of medical professionals across the United States including Alaska, Puerto Rico and the Caribbean. For more information, visit http://www.bizmaticsinc.com.
About Middletown Medical
Main Contact Person: Mr. Vivek Oberoi
Address: 111 Maltese Drive, Middletown, NY, 10940 AND 2 Edgewater Drive,
Middletown, NY, 10940