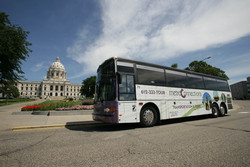 We were excited to provide excellent services to this fine organization
Minneapolis, MN (Vocus) August 24, 2009
metroConnections provided Program Management services to the National Association of Secretaries of State (NASS) during their summer conference July 16 - 19, 2009. NASS estimated attendance at 200 attendees.
"We were very pleased with metroConnections," says Jim Gelbmann of the MN Office of Secretary of State. metroConnections managed three events for NASS in downtown Minneapolis. Services provided by metroConnections included the management of venue logistics, food and beverage, entertainment management and AV services. Transportation and tour services were also provided.
"We were excited to provide excellent services to this fine organization," said Sam Thompson, President and CEO of metroConnections. "And we hope we can help them the next time they meet in the Twin Cities as well."
About metroConnections
metroConnections provides complete conference, event and transportation services for meeting and event planners nationwide. As the leading destination management company since 1984, metroConnections utilizes its expertise and resources to specialize in the design and implementation of theme events, activities, transportation, tours and conference program logistics and meetings. The company has office locations in Minneapolis, Minn. and Orlando, Fla. For information on planning conferences, events, transportation or tours, contact metroConnections at 612-333-8687 or visit http://www.metroconnections.com .
About the National Association of Secretaries of State
Founded in 1904, the National Association of Secretaries of State (NASS) is the nation's oldest, nonpartisan professional organization for public officials. Members include the 50 states, the District of Columbia, Puerto Rico, American Samoa, Guam and the U.S. Virgin Islands.
The association serves as a medium for the exchange of information and fosters cooperation between states governments in the development of public policy. NASS has key initiatives in the areas of elections and voting, state business services, electronic government and digital archiving.
MEDIA CONTACT
Amanda DePhillips
Marketing & Public Relations Manager
Phone: 952.767.2907
News Room
###