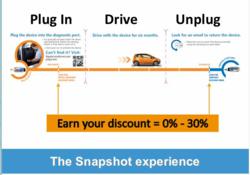 People who go with Test Drive the Snap Shot and get quotes with discount ranging from 0% to 30% after one month of plugging the device in their vehicle. On the contract date, the company will decide the actual discount rate.
Bridgeview, Illinois (PRWEB) November 15, 2012
In a remarkable move to catch up with competition, Progressive insurance has announced earlier this week that it has expanded its Usage Based Insurance program, Snapshot, in the State of Illinois. Snapshot is a program aimed at offering up to 30% discounts for certain drivers. Other major insurers have been providing similar auto insurance rates saving programs in Illinois, including State Farm and Allstate which have similar programs, Drive Safe & Save and Drive Wise, respectively.
Snapshot is a Usage Based Insurance (UBI) method. "Experts think that Usage Based Insurance will lead to lower car insurance rates in the future. The method involves plugging an electronic device into a consumer's car. The devices transmit data via cell phone chip to the insurance company facilities concerning driving habits of the operators," said Ed Snenneh of Insurance Navy, an Independent Agent appointed by Progressive Insurance in Chicago Illinois. Some people wrongly think that there is 'watching, big brother, technology' in the device. "The distance (mileage), time of the day, and quality of driving (hard braking). It is not about speed, locations (no GPS used), or number of trips," Mr. Snenneh added.
The data gathered by the device is then used to determine the auto insurance premium of the participating insured people.
Test Drive is a promotion that Progressive plans on using before the end of the year to attract potential customers to try the Snapshot for one month. People do not have to be insured with Progressive to try the new technology. Testers of the Snapshot will get the device for one month and then get quotes with discount ranging from 0% to 30% after one month of plugging the device in their vehicles.
Snapshot was introduced in 1994, under a different name, and in 2011 the term Snapshot was revealed. Experts believe that there is currently 1% of motorists in the US who use UBI, but the number will go to 20% to 30% in the next seven years. Progressive's snapshot is currently available in 43 states including Illinois, but not in Alaska, California, Hawaii, Indiana, North Carolina, Tennessee or Washington. According to Progressive website, total savings for customers from using Snapshot reached over $70 million.
Allstate's Drive Wise is available in the States of Arizona, Colorado, Florida, Illinois, Michigan, New Jersey, New York, Ohio, Oregon and Pennsylvania. State Farm's Drive Safe & Save is available in the States of Alabama, California, Florida, Georgia, Illinois, Indiana, Iowa, Michigan, Minnesota, Ohio, Pennsylvania, Texas, Utah, Virginia and Washington.
About Insurance Navy
Insurance Navy is a leading provider of auto insurance in Chicago Illinois with several branches in the area. Besides Progressive, Insurance Navy represents a number of insurance companies in Illinois and Indiana.
Contact Information:
Insurance Navy Agency
Address: 7213 West 84th Street, Bridgeview, IL 60455
Phone: (708) 233-4848