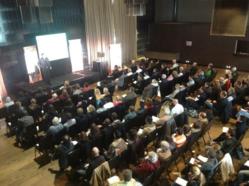 At the event, UK residents will get the rare opportunity to learn some of my progressive property strategies
London, England (PRWEB) February 26, 2013
Property investment mentor and 'Houses for a Pound' creator, Rick Otton, has offered to reveal to UK property investors his unconventional but simple secrets to financial freedom at a Zero-Debt Property Cashflow Conference later this year.
Mr Otton says the event is crucial given new reports which show average housing prices in the British housing market have gone on a downward slide in the past five years, with some regions particularly hit.
The reports, outlined in The Guardian newspaper, also found that many buyers of new-build luxury flats in UK's provincial cities were bogged in negative equity, while young families were continuing to put their dreams of home ownership on the back burner due to impossibly high deposit requirements.
Cashflow Conference
"As the housing market situation in the UK is predicted to remain quite flat throughout 2013, it's up to property investors to learn how to make money in property and accumulate long-term wealth," Mr Otton said.
"The Zero-Debt Property Cashflow Conference will reveal to participants unconventional but tried-and-tested ways of real estate investment. These include, for example, how to invest in property with no deposit, how to buy a house for a pound, buy-to-let transactions and enjoying positive cash flow on multiple properties from day one.
"At the event, UK residents will get the rare opportunity to learn some of my progressive property strategies in a highly interactive and intense training environment. Putting some of my creative real estate strategies into action will mean no more negative equity or delaying dreams for home ownership."
Mr Otton said that as a professional property investor with more than 20 years of experience in the field and as a mentor to tens of thousands of students from across the world, he was on a personal mission to transform the future of buying and selling properties.
He urged UK residents to tap into the secrets to long term wealth in property investing by securing a seat at his conference. Discounts were available for those who registered before March 15.
"I'll show you how to buy a house with my proven property system, even if you have no cash, credit or experience," Mr Otton said. "Anyone can learn my easy-to-copy, no-money-down strategies and make money in property while the economy continues to be sluggish in 2013."
For more details on the event, being held 19-21 April 2013) visit RickOtton.co.uk.
About Rick Otton
Rick Otton has spent decades making money by snapping up inexpensive real estate and putting it to work building wealth.
He is the founder and CEO of We Buy Houses, which operates in the U.S., U.K., Australia and New Zealand putting his strategies to work every day.
Otton received his start in alternative real estate investment in 1991 and within a year acquired 76 properties. In the following years, he made a fortune using his low-risk, high-reward strategies to inexpensively acquire real estate.
These days Mr Otton shares his progressive property strategies as a real estate educator, teaching others how to buy and sell real estate without cutting banks and other middlemen in on the deal.
In 2008 Rick revealed his strategies in the United Kingdom and became the creator of 'Houses for a Pound'. Otton has been featured in a variety of television programs and magazines.
Details of Mr Otton's UK Zero-Debt Property Conference are at RickOtton.co.uk