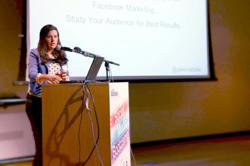 Actively recruiting fans, rather than waiting for them to come to you, ensures you are continually growing your fan base.
(PRWEB) February 13, 2013
Progrexion, a leading marketing and information services business in the consumer credit information sector, released five tips today for businesses setting up Facebook fan pages. The following tips will help businesses market to their existing clients and reach out to new clients.
1. Setting Up Your Page—The first two things fans are likely to see when they visit your page are your Cover Image and Profile Photo. A company logo generally works best for the Profile Picture. If that's not an option, be sure to create a design that blends well with your Cover Photo. Above all, quality is key. The width and height of the Profile Picture should be 180 by 180 pixels, and 851 by 315 pixels for the Cover Photo. The most important thing to do when setting up your page is to be thorough and fill it out as completely as possible. Do not leave anything blank if you can help it.
2. Let 'Em Know You're There—Ask yourself this question: "Am I more likely to seek out a brand on my own or become a fan of a brand that makes a visible effort to present itself to me?" Actively recruiting fans, rather than waiting for them to come to you, ensures you are continually growing your fan base. There are a number of ways to recruit fans, including: Page Post Ads, Sponsored Stories, Targeted Ads and Page Post "Like" Ads. Familiarizing yourself with the variety of advertising options available will help you reach the widest possible audience.
3. Define Your Audience—When defining your audience there are a few considerations to keep in mind, such as: location, age, and precise interests. Keep all these factors in mind when setting up your Targeted Post.
4. Content That Works—At the end of the day it all comes down to content. When contemplating content, you should think of how you can engage, educate and entertain your fans. Variety rules. A combination of images, videos, polls and news stories will keep your page interesting and informative. Ultimately, it's less about what form your content takes, and more about what it conveys. People want to know that you are interested in them, that you are involved in the community, and that you care about building long lasting relationships.
5. Scheduling Content—You're busy. We get it. Luckily, scheduling content is easy. To schedule a post for Valentine's Day, for example, simply type your message in the "Status" field and select the time you want the post to go live by clicking on the clock icon. This allows you to reach your fans at those important moments, without ever skipping a beat.
To view a slide show of the above tips visit,
http://www.slideshare.net/ProgrexionMarketing/facebook-101-for-business-integrated-marketing-pr.
About Progrexion
Progrexion and its affiliated companies and clients, such as Lexington Law and CreditRepair.com comprise the nation's largest consumer advocacy network and employ over 1,500 people at locations throughout the Wasatch Front and in Idaho. For additional information about Progrexion and career opportunities, please visit http://www.progrexion.com/careers.