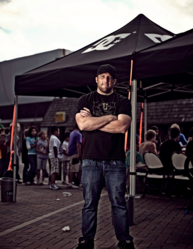 Mike will share his story, discuss the power of branding through videos, and share how to push your brand to the forefront of your business category.
Salt Lake City, UT (PRWEB) November 15, 2012
Progrexion will co-sponsor the Utah Chapter of American Advertising Federation's (AAF) DC Shoes and the Gymkhana Project Nov. 16, 2012 from 8:30 am to 10:30 am. The public is invited to attend. The event will be held at the Fort Douglas Post Theater in Salt Lake City and interested attendees should log onto the DC Shoes and Gymkhana event site to purchase tickets. Keynote speaker Mike Aland, Executive Producer, and one of the minds behind the Gymkhana franchise, has launched a viral phenomenon with well over 195 million views worldwide and has won countless awards. Mike will share his story, discuss the power of branding through videos, and share how to push your brand to the forefront of your business category.
The AAF-Utah hosts about a dozen events per year, and brings hundreds of advertising professionals together, including agents, clients, freelance designers, photographers, printers, reps for various advertising mediums, the media, and students interested in getting into the profession. These events are also well attended by top agencies and by prospective clients looking to hire advertising professionals and agencies.
"As the local advertising community in Utah, we're thrilled to host the minds behind one of the most successful viral video campaigns in the world," said Adam Morgan, President of AAF-Utah. This is an excellent opportunity for all of us to see behind the curtain and understand what it takes to truly go viral."
At AAF-Utah events, participants are able to share their strategies and techniques to increase marketing exposure, and presenters are on hand to provide in-depth, insider information and to answer questions. "AAF-Utah is a great organization for our local marketing community and Progrexion is thrilled to be a part of bringing these types of opportunities to Utah's professionals and students," said James Agnew, Vice President of Marketing for Progrexion Marketing. The DC [Ken Block] Gymkhana Project has been a very smart way to deliver a positively contagious brand experience to their customers. This is something I think we all hope to accomplish for our brands and products."
Progrexion focuses its efforts on improving the financial lives of consumers throughout the nation. It provides services for more than 150,000 clients. Progrexion was formed with the goal of providing sophisticated software and other back-end services to credit repair firms. The vast majority of consumers have errors on their credit reports that lower their scores and prevent them from receiving the fair loan rates and the credit they truly deserve.
###
About Progrexion
Progrexion and its affiliated companies and clients, such as Lexington Law and CreditRepair.com, comprise the nation's largest consumer advocacy network and employ over 1,400 people at locations throughout the Wasatch Front and in Idaho. For additional information about Progrexion and career opportunities, please visit
http://www.progrexion.com/careers.
ABOUT AAF-Utah
The Utah chapter of American Advertising Federation is an organization of advertising and marketing professionals working to advance the industry statewide. We provide networking and educational opportunities to help you move forward in your current career or to get started in the industry. Externally, we communicate the benefits and overall effectiveness of advertising to companies and governmental organizations.
ABOUT Mike Aland
Mike Aland is the Executive Producer for Gymkhana FIVE, though he has worked on Gymkhana TWO through Gymkhana FIVE. He has worked for DC Shoes since 2006 in e-Commerce Sales, DC Auto Marketing, to his present position as Director of Marketing for Auto and BMX. To learn more visit: http://www.dcshoes.com/us/en/auto/news/gymkhana-infographic-05312012.