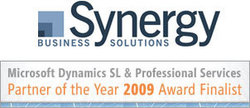 Synergy helped us streamline our accounting when our company could not afford to hire more staff
Seattle, WA (PRWEB) July 6, 2009
Synergy Business Solutions, a leading provider of project accounting software solutions, announced today it has been selected as a 2009 Microsoft Worldwide Partner Conference Awards finalist in Microsoft Dynamics Professional Services. The awards recognize Microsoft partners that have developed and delivered exceptional Microsoft-based solutions over the past year. This recognition is in addition to Synergy's selection as a 2009 Award Finalist in Microsoft Dynamics SL.
"Achieving this second finalist selection reflects our commitment to deliver strategic business value to our clients in professional services," said Jered Cady, Executive Vice President of Synergy Business Solutions, a gold certified Microsoft partner since 2003 and a previous winner of the Dynamics SL award in 2005 and 2008. "We are grateful for this recognition and see it as an impetus to further excel in providing project management, project and cost accounting, job costing, reporting, and collaboration solutions to project-focused professional services firms.
"Synergy helped us streamline our accounting when our company could not afford to hire more staff," said Kevin Sullivan, Controller of Vista Engineering Technologies. "When we doubled our number of projects and only increased staff by one, no one felt under the gun. The new software integration Synergy implemented has transformed our morale and confidence. We now produce status reports in days rather than weeks, invoices within a week rather than up to four weeks, and have cut the average payment of bills by three weeks."
From a pool of nearly 2,000 entrants worldwide, the Microsoft Dynamics Professional Services Partner of the Year award recognizes partners who have exhibited excellence in providing innovative and unique solutions based on Microsoft Dynamics to customers in the professional services industry. Successful entrants for this award demonstrate industry knowledge and expertise, as well as consistent, high-quality, predictable service to Microsoft Dynamics customers. Successful entrants also demonstrate business leadership and success with strong growth in new customer additions and revenue.
"Partners are the key to igniting business innovation through great technology as well as helping customers drive down costs," said Allison L. Watson, Corporate Vice President, Worldwide Partner Group, Microsoft Corp. "Congratulations to the 2009 WPC Award finalists who have demonstrated a superior level of expertise as well as a focus on delivering customer value. We look forward to seeing these partners fulfill their limitless potential as they continue to provide customers with world-class Microsoft solutions."
To obtain more resources on how to realize benefits, such as those described above by Vista Engineering Technologies, visit Synergy Resources.
About Synergy Business Solutions
Synergy Business Solutions serves clients providing comprehensive software solutions to companies doing project-based work, including those in the architecture, engineering, construction, pharmaceutical and research, professional services, and make-to-order manufacturing industries. Through implementing Microsoft Dynamics SL, Microsoft Project, SharePoint, and other solutions, Synergy helps organizations that have outgrown their systems and procedures, or have identified cumbersome processes, to operate more efficiently while effectively managing projects, resources, time, financials, and growth. Through flexible, integrated, and Web-based solutions, Synergy delivers insight, visibility, and control to an organization's managers that result in improved productivity and profitability. Synergy's method of prototyping systems with real company data allows organizations to see how Dynamics SL can meet their business needs before they purchase. For more information call 800-481-8590 or visit project accounting experts.
# # #