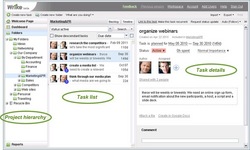 I love the new dashboard. It makes it a lot easier to see what my people are working on
San Jose, CA (Vocus) October 28, 2010
Wrike.com introduces the next level of project collaboration that meets the needs of thousands of SMB project teams with a simple, yet intuitive, tool for organizing and managing their everyday projects. The new Wrike Social unites the most popular and useful project management features, such as Gantt charts and reports, with the usability, productivity and familiar real-time updates of social networks.
"Our main goal when working on the new Wrike was to make an advanced project management solution as easy to use as a social network. We also wanted to translate the productivity you enjoy while using social networks into the ability to manage your team and your work twice as efficiently as you did before. So the new Wrike is all this – a really intuitive and easy-to-use project management and collaboration software that is integrated with email and merges your email discussions into your online project workflow," points out Andrew Filev, the CEO of Wrike.com.
Wrike continues to provide on-demand, secure online access to project management that can be set up in seconds. With built-in integration with your existing email, and no need for installations or costly and complicated servers, Wrike provides powerful project management tools to teams of any size.
The most prominent improvements featured in the new version of Wrike are:
The productivity of social networks: The new Wrike interface offers a redesigned social network-like user experience. Unlike other project management systems (such as Microsoft Project, Basecamp or SharePoint, which distribute data across disconnected workspaces), Wrike works more like a social network. It aggregates the data across all projects in one workspace. It allows teams to collaboratively organize their project data into hierarchies and put multiple tags on this data.
The workspace itself is extremely easy to navigate, so regular business users can set up a project and start collaborating with their team in minutes. A three-pane workspace, activity streams, instant updates, drag-and-drop support, zoom and many other features make managing your work as simple as possible. Every action, from sharing a file, to creating a task or commenting on projects, takes only a click or two. Avatars bring a visual experience to the teams' online interactions. This feature makes the online workplace much friendlier to all users.
Activity streams and microblogging keep each team member in the loop, so that everyone is informed of the recent changes on a project in real time. The new Wrike features a general activity stream, helping to give an immediate overview of what each member of the team is busy with, as well as a dedicated activity stream for each project and task, providing a handy way to get an instant snapshot of the whole history of the team's collaboration on each particular item.
The backlog is the first software solution to unite the well-known personal productivity concept with project collaboration in one easy-to-use social productivity feature. The backlog accumulates all the tasks that don't have strict deadlines, but are still important and need to be done sometime in the future. From now on, all the project participants – including team members, partners and clients – have a powerful tool for recording and sharing project-related ideas, which often become lost or forgotten otherwise. When the team has time and resources, the backlogged ideas can be prioritized, scheduled and assigned to a person or a group.
The efficiency dashboard is a powerful, yet simple, tool that boosts the productivity of every member on a team. The dashboard aggregates the most important data from the project management system, including overdue items, recent changes and the team's comments, making task management faster than ever before. Upon opening the dashboard, team members immediately get a quick, visual reminder of what they should be working on today, as well as real-time updates from their peers. Team leaders can easily monitor and coordinate the work of their staff, closely following the progress of multiple projects and helping to direct and allocate resources to keep the projects on track. "I love the new dashboard. It makes it a lot easier to see what my people are working on," says Juan Nieves, manager at DePaul University and a customer of Wrike.
The Twitter-like "Follow" feature provides project managers with a simple way to guide and oversee the project schedule and equips every team member with an ability to closely watch changes on each particular task or project online through activity streams or via email. The notifications are easily customizable, so team members can choose which updates they want to receive.
Wrike Social was praised by many of Wrike's customers during the beta testing of the new software. "The new Wrike is great. Everything seems smooth, editable and user-friendly. Thanks!" writes Jason Nadler, project manager at ClickFarm Interactive.
To see Wrike's new version in action for free, please visit http://www.wrike.com.
About Wrike
Wrike is the leading on-demand, online project management and collaboration solution. It provides teams with a unique platform for collaborating on multiple projects in one workspace in real time. Wrike's collaboration features give a significant productivity gain to diverse small and midsize companies and are known to save managers up to 30 working hours per month. Its e-mail integration is the most advanced in the project management space. Wrike, Inc. has patents pending. Founded in 2003, Wrike, Inc. is a privately held corporation located in California.
###