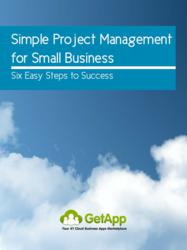 Project management can help a small business owner turn chaos into order
Barcelona, Spain (PRWEB) May 22, 2012
Small businesses don't have the luxury of abundant resources to accomplish each task. It's likely that every employee in the business wears several hats at a time. That's why project management is so useful for small business and it's the driver behind the creation of this free ebook.
"We want to help small businesses make the most of their resources," said Christophe Primault, CEO of GetApp. "Project management enables them to organize tasks, coordinate team members and manage their budget to ensure delivery of quality solutions to their customers. Project management can help a small business owner turn chaos into order."
Way too many small business owners use a "Fire, Ready, Aim" approach to accomplishing projects. In the short run, this method may seem faster than planning, but it is fraught with danger and can cost a small business lost time, money, effort and worst of all, dissatisfied customers.
Using a project management approach can help a small business overcome these obstacles to minimize confusion, rework, errors and best of all, it can help them delight the customer.
The ebook tackles key areas that small businesses should address when using a project management approach:
Four reasons why project management is so valuable to small business.
Six easy steps to start managing projects in your business (so you can stop using the "Fire, Ready, Aim" approach).
Four common problems with projects that could cause you to fail (and how to overcome them).
Five steps to finding the right project management software for your business.
The ebook also includes a variety of resources to save small business owners time.
Simple Project Management For Small Business: Six Easy Steps To Success may be instantly downloaded for free at:
http://www.getapp.com/blog/ebook-simple-project-management-small-business/
About GetApp
GetApp is the largest independent online marketplace that helps small to mid-sized businesses and startups discover, evaluate and manage the perfect cloud business app s for their needs. Its mission is to support millions of users in their "best app" research with comprehensive directories, interactive search tools, side by side comparison tables, user reviews and app evaluation resources.
In addition, GetApp serves as a global online marketing channel for thousands of cloud business application developers.
Headquartered in Barcelona, Spain, GetApp operates primarily in North America and the U.K. It is privately owned and backed by Nauta Capital