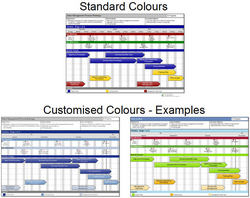 We believe in ease and clarity, and this release makes Swiftlight even stronger on both dimensions.
New York, NY (PRWEB) November 16, 2010
Torridon Solutions is making it easier for the business managers and executives, management consultants and project managers who use Swiftlight project management software to organize, collaborate, and stamp project plans with the unique personality of corporate brands.
Torridon today announced the release of version 1.2 of Swiftlight. The new software is available immediately.
For a video outlining the key new functionality in Swiftlight 1.2 , click here: click here.
"We believe in ease and clarity," said Peter McWhinnie chief executive officer of Torridon. "Project management software should be easy to use day-to-day. It should produce output that is clear and good looking, and that facilitates the transparency and communication that are central to effective project management. This new release makes Swiftlight even stronger on both dimensions."
"We began by making it easier to share the content of project plans with other business software tools," said McWhinnie:

Swiftlight now exports to Microsoft Excel in CSV formats and to PowerPoint and PDF formats, allowing users to extract milestones, meetings, actions and other data for easy manipulation or sharing – and to instantly send Swiftlight charts, lists or tables into standard presentation or document formats.
Swiftlight users may now also copy and paste from lists and tables directly into Microsoft Word, Excel, PowerPoint and Outlook, or to Yahoo email and Gmail – "the powerhouse tools that are basic to business communication," said McWhinnie, "making it incredibly uncomplicated to send task or other information when you need to collaborate with other users."
"Then we made it refreshingly simple for users to customize Swiftlight when they have to comply with corporate standards for colors and fonts, or wish to incorporate their own logos, or export to their own PowerPoint templates for presentations or project proposals.
"Project managers, planners and consultants want to follow company rules for corporate branding – and rightly so. If you are putting a plan together or inserting a timeline into a document for a customer you want it to match your style and branding.
"This is now possible with Swiftlight in a way that is pretty unique relative to other project management software; users are also able to create a file to use like a template and work with this systematically. They can do this at the organization level – or give different looks to different projects for different customers," said McWhinnie.
"Swiftlight users have been asking for this capability. Consultants, in particular, work with multiple clients, and each client wants outputs that match their colors, their look and feel. And consultants also have their own brand standards for how they present themselves to clients. So consultants need to be able to work easily with multiple styles and PowerPoint templates. Now, with Swiftlight, they can," said McWhinnie.
About Swiftlight
Swiftlight is a project management software application that saves time, creates clarity and gets results for its users. It offers a planning structure, high quality visuals and outstanding ease of use and is a great alternative to traditional gantt chart software. Created to meet the needs of a broad range of business managers, executives and consultants, rather than just project management experts, Swiftlight is particularly well-suited to project planning and progress reporting for "smaller scale" or "less complex" projects, and for creating timelines and other outputs for project proposals.
For people who find Microsoft Project too complex, and managing projects in Excel and PowerPoint very time-consuming, Swiftlight can quickly generate clear, presentation-ready plans and progress reports for initiatives such as product launches, strategy reviews, operational improvement initiatives or annual planning.
For specialist project managers with larger IT, engineering or R&D projects, Swiftlight makes it easy to articulate and visualize "the big picture," with outputs that can capture timelines, objectives, deliverables and measures of success all on one page. Swiftlight also provides links to MS Project to simplify project reporting.
For more information, including a detailed product description and tutorial videos please visit the Swiftlight project management software website. Swiftlight is designed for desktop and laptop computers configured with Microsoft Windows 7, Vista or XP. A single user license can be purchased for $299. A free 30 day trial of Swiftlight is available here.
About Torridon
Founded in 2005 and privately held, operating from London as Torridon Solutions Ltd. and from New York as Torridon Solutions Inc., the mission of Torridon Solutions is to make life easier for managers and the companies they work for by designing, creating and distributing practical and innovative software for the world of planning, project management and management communication. Torridon Solutions has customers in 17 countries, predominantly in North America and Europe.
# # #