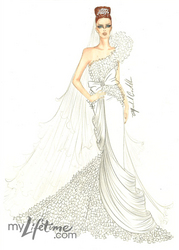 Since Price William and Kate Middleton's engagement was announced, the world has been abuzz about what Kate will wear on her big day
New York, NY (PRWEB) March 29, 2011
In anticipation and support of the April 18 world premiere of the Lifetime Original Movie William & Kate, Lifetime Digital has put together an unprecedented collection of designs from more than 50 alumni of Project Runway. Contestants from all eight seasons of the hit unscripted program have drafted sketches of the wedding dress they envision the future Princess Kate Middleton should flaunt on her big day.
All of these unique visions are available to the public at http://www.myLifetime.com/runwaywilliamandkate. In fact, driven by the launch of this collection, MyLifetime.com set an all-time record yesterday with 2.8 million page views.
"Since Price William and Kate Middleton's engagement was announced, the world has been abuzz about what Kate will wear on her big day," said Evan Silverman, Sr. Vice President, Digital Media for A&E Television Networks. "We are thrilled to have the opportunity to explore the possibilities through the eyes of some of Project Runway's most talented and creative designers."
Participating Project Runway winners, runners up and All-Stars Challenge designers whose fantasy dresses are being be featured on myLifetime.com include: Mondo Guerra (Season 8 runner-up), Seth Aaron Henderson (Season 7 winner), Emilio Sosa (Season 7 runner-up), Mila Hermanovski (Season 7 runner-up), Irina Shabayeva (Season 6 winner), Carol Hannah Whitfield (Season 6 runner-up), Althea Harper (Season 6 runner-up), Leanne Marshall (Season 5 winner), Rami Kashou (Season 4 runner-up), Sweet P (Season 4), Mychael Knight (Season 3 runner-up), Johnathan Kayne (Season 3), Nick Verreos (Season 2) and Kara Saun (Season 1 runner-up) among others. In addition to each sketch, the online gallery will include each designer's name, headshot, season number, "where are they now" information and the reasons they chose each particular look.
William & Kate will make its world premiere on Monday, April 18, at 9:00 pm ET/PT. The movie tells the story of how the friendship between Prince William (Nico Evers-Swindell), second in line to the throne of the British monarchy, and future princess Kate Middleton (Camilla Luddington), the stunning daughter of upper middle-class commoners, blossomed into a romantic love affair, charming the world with their recent engagement and eagerly awaited royal wedding. The film chronicles the history of William and Kate -- from the moment they met at Scotland's prestigious University of St. Andrews, through the ups and downs of their nine-year courtship complicated by social and Royal Family pressures, and intense global media attention surrounding their storybook nuptials.
Hosted by supermodel and fashion maven Heidi Klum, the hit series Project Runway provides budding designers with an opportunity to launch their careers in fashion, under the watchful eyes of mentor and Liz Claiborne Chief Creative Officer Tim Gunn and judges Michael Kors and Nina Garcia. The wildly successful competition reality series was 2010's #1 competitive reality program on ad-supported cable among Women 18-49, Women 25-54, Women 18+, Women 18-34 and Households.
About Lifetime Television
Lifetime Television is committed to offering the highest quality entertainment and information programming, and advocating a wide range of issues affecting women and their families. Lifetime Television®, Lifetime Movie Network®, Lifetime Real Women® and Lifetime Digital™ (which includes myLifetime.com, LMN.tv, Lifetime Games, Roiworld.com, DressUpChallenge.com, MothersClick.com and LifetimeMoms.com) are part of Lifetime Entertainment Services, LLC, a subsidiary of A&E Television Networks, LLC. A&E Television Networks is a joint venture of the Disney-ABC Television Group, Hearst Corporation and NBC Universal.
About AETN Digital
AETN Digital Media, a division of A&E Television Networks, LLC, is a leading provider of digital content for properties including History, Lifetime, A&E, Biography, Roiworld, DressUpChallenge, Lifetime Moms and MothersClick. More than 13 million unique visitors per month engage with the company's digital brands across 14 properties, and millions more consume the content via syndication, social media and mobile.
# # #