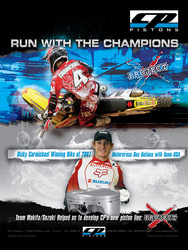 Irvine, CA (PRWEB) January 21, 2009
CP Pistons is proud to announce that it will be unveiling its "Project X" piston line for street bike and Powersports applications, and will have legendary rider Ricky Carmichael's winning bike from the 2007 Motocross Des Nations with Team USA on display in their booth (booth # 5317) at the Dealer Expo in Indianapolis, IN, February 13th-16th, 2009. This motorcycle won using the original technology used to develop CP Piston's Project X piston line.
"PROJECT X"--THE X FACTOR FOR COMPETITIVE STREET BIKES/POWERSPORTS APPS
After two years of development, CP has expanded its X-forging technology from its custom racing piston program and introduced Project X Pistons: Off-the-shelf fully boxed X-forged pistons for a variety of street bike and Powersports applications including Honda, Yamaha, Suzuki, Kawasaki, KTM and others. CP Piston's fully boxed X-forgings are designed to further minimize friction and reduce weight without compromising piston strength. CP adjusts the weight balance between the high and low areas of the piston during the forging process, and incorporates bracing and ribs for ultimate strength. The inherent design of CP Piston's fully boxed X forgings allow for the use of a shorter pin, which increases strength and overall lightness of the assembly.
Project X Piston Line Features:

Leading edge racing piston technology available off-the-shelf
Fully boxed-style forging for ultimate strength, durability and power
Reconfigured piston skirt designs maximize power and reduce piston rocking
Coated skirts limit the amount of friction on the skirt/acts as buffer between piston and cylinder wall
Double-pin oilers engineered in conjunction with broached oilers to deliver twice the amount of oil to the pin
Internal windows allow additional oil to flow to pin
Wrist pins treated with proprietary coating to eliminate pin galling and overcome brittleness associated with hardened metals
DO YOU WANT TO RUN WITH THE CHAMPIONS?
CP Pistons offers over 120 off-the-shelf street and race pistons for Honda, Yamaha, Suzuki, Kawasaki, KTM, CAN AM, Polaris and others. Each piston is designed using sophisticated 3-D modeling software and manufactured with advanced 5-axis techniques to make them the lightest and strongest pistons on the market. These pistons are available in standard size or big-bore kits and are compatible with higher lift cams and oversize valves. Every CP Piston is designed through extensive research and development and with the cooperation of some of the biggest names in Motorsports. Custom pistons for racing applications are also available.
ABOUT CP PISTONS
CP Pistons, founded in 1999, is celebrating its 10th anniversary. CP Pistons was founded with the mission of servicing the needs of enthusiasts and racers who desire to build the highest quality engines. CP Pistons ensures the highest quality by using the latest technology to manufacture its products, including state-of-the-art equipment, proprietary tooling and dedicated cutters. Along with unique fixturing, computer modeling and five-axis machining, CP employs a multi-level inspection process that includes an advanced climate-controlled inspection department to guarantee that each piston is second to none. CP Pistons is a member of PANKL Racing Systems.
CP Pistons
1902 McGaw
Irvine, CA 92614
949-567-9000 Phone
949-567-9010 Fax
Visit CP Pistons Website
###