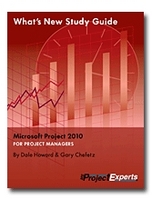 Microsoft Project 2010 is a landmark release. From support for a radically changed scheduling paradigm to a host of new features that improve a Project Manager's experience, many of the 22 million Microsoft Project users worldwide are going to want to learn about Microsoft Project 2010. We're Microsoft Project 2010 Ready
New York, NY (PRWEB) April 7, 2010
Project MVPs Dale Howard and Gary Chefetz Launch first in their MSProjectExperts book series for Microsoft Project 2010 and Microsoft Project Server 2010.
"The first Microsoft Project 2010 book release from MSProjectExperts, What's New Study Guide Microsoft Project 2010, begins shipping on April 20, 2010," announced Dale Howard, author and VP of Education. "We are especially pleased to ship this book in time for the first Microsoft Project 2010 soft release. If early adopters order now, they can have their book in their hands before May 12, when the first RTM versions of Microsoft Project 2010 and Microsoft Project Server 2010 and other SharePoint and Office 2010 technologies become available to partners and corporate customers," continued Howard. "Microsoft Project 2010 is a landmark release. From support for a radically changed scheduling paradigm to a host of new features that improve a Project Manager's experience, many of the 22 million Microsoft Project users worldwide are going to want to learn about Microsoft Project 2010. We're Microsoft Project 2010 Ready," Howard boasted jestfully.
Teach yourself how to use Microsoft Project 2010's new features with this self-paced study guide. Hands-on lessons complete with practice files get you up to speed on all of the revolutionary new features in Microsoft Project 2010, including manual scheduling, team planner, the fluid user interface and the new timeline view. Learn how to connect Microsoft Project 2010 with SharePoint Foundations 2010 to allow your team members to update their tasks through the web without using Microsoft Project Server 2010. This book contains content culled from the acclaimed learning authority, Ultimate Study Guide Microsoft Project 2010 Foundations. What's New Study Guide Microsoft Project 2010 focuses only on new and changed features and behaviors. This book is the perfect learning solution for experienced Microsoft Project users upgrading from Microsoft Project versions 98 through 2007.
For a limited time only, What's New Study Guide Microsoft Project 2010 is available through the MSProjectExperts Preview Sale for $15 freight-included for delivery anywhere in the US. Click here to be first on your block to own What's New Microsoft Project 2010.
About msProjectExperts
MSProjectExperts is a Microsoft Gold Certified Partner and leading provider of consulting services, training, software add-ons, and books and courseware for the Microsoft EPM environment. Headquartered in New York City, MSProjectExperts is in its eighth year serving both business and government sectors.
Contact
Jennifer Herman
msProjectExperts
(646) 736-1688 x22
###