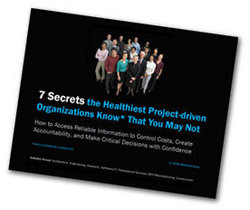 Many executives, financial directors, and project managers are exasperated by ineffective and manual processes in accounting, project management, and reporting
Seattle, WA (PRWEB) September 3, 2009
The new ebook, 7 Secrets the Healthiest Project-driven Organizations Know That You May Not, contains a wealth of insight on how project-focused industries can use software tools to boost productivity, effectiveness, and morale.
"Many executives, financial directors, and project managers are exasperated by ineffective and manual processes in accounting, project management, and reporting," says author Michael Camp, Marketing Director at Synergy Business Solutions, "It blindsides them from realizing operational efficiency and confidently making critical business decisions--both keys to profitability. By following the principals in this informative guide, they can develop a plan to solve these types of issues."
Published by Synergy Business Solutions, the ebook's subtitle summarizes its benefits: How to access reliable information to control costs, create accountability, and make critical decisions with confidence.
It first describes the irritating scenarios companies endure without the tools they really need. In the form of seven insights, it then reveals what makes vibrant project-focused companies, not only tick, but thrive--organizations in architecture, engineering, research, pharmaceutical, biotechnology, software/IT, professional services, make-to-order manufacturing, and construction.
"The ebook has an easy-to-read style and visual look and contains several helpful illustrations from every-day and business life and IT research," says Jered Cady, Executive Vice President of Synergy Business Solutions. "The secrets are born out of what real-life companies did to solve problems like duplicate data entry, lack of access to real-time information, uncertainty over data accuracy, applications being out of sync, collaboration hassles, and inventory control."
The prescription has to do with integrating project and financial accounting, drawing on the same set of data, and role-based accessibility to the data with a flexible set of tools that are familiar to stakeholders.
Since the copyright is under a Creative Commons License, the author permits free redistribution of the ebook provided it is passed along unchanged and in whole. To download the 7-Secrets complimentary ebook, visit Download 7 Secrets.
About Synergy Business Solutions
A Microsoft Gold Certified Partner based on the U.S. West Coast, Synergy Business Solutions provides comprehensive software solutions to companies primarily doing project-based work. Synergy helps organizations that have outgrown their systems and procedures or identified cumbersome processes to operate more efficiently while effectively managing projects, resources, time, financials, and growth. Through flexible, integrated, and Web-accessible solutions, Synergy delivers insight, visibility, and control to an organization's managers. Synergy's method of prototyping systems with real company data allows organizations to see how software tools can meet their business needs before they purchase. For more information, visit Synergy Business Solutions or call 800-481-8590.
###