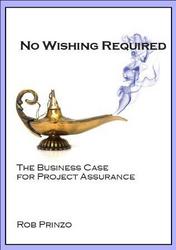 Project assurance is the next best thing to an insurance policy for an enterprise software implementation project.
Atlanta, GA (PRWEB) February 22, 2011
In his book, "No Wishing Required, The Business Case for Project Assurance", author Rob Prinzo reveals his unique methodology developed to overcome enterprise software implementation failure.
"Over the past fifteen years as a consultant, I've participated in many large-scale enterprise software implementations," said Rob Prinzo. "In the process, I've developed an approach that dramatically improves project success: project assurance through collaborative intervention. I wrote "No Wishing Required" to let people know there is a way to avoid project failure that really works."
Written as an educative - yet entertaining - business novel, "No Wishing Required" reveals the project assurance methodology, the key failure-prevention steps, and the best practices for developing collaborative team behavior. Prinzo defines collaborative intervention as the next best thing to an insurance policy for large-scale implementation projects.
"Industry statistics show that nearly 70% of large-scale implementations fail to deliver anticipated results," states Prinzo. "Project assurance provides a practical approach to avoiding project failure by closing the gaps in traditional project management methods while giving project managers proven collaborative intervention tools and techniques that allow them to practice project leadership rather than just project management."
About Rob Prinzo and The Prinzo Group
Rob Prinzo is an accomplished enterprise software implementation executive with a solid track record of innovative, progressive growth and notable success in the management and implementation of complex, large-scale business systems. He is the founder and CEO of The Prinzo Group, an innovative knowledge firm that provides performance management expertise through project assurance solutions for enterprise transformation and technology projects as well as performance measurement research, publications, workshops and training.
"No Wishing Required" is available in both hardcopy and ebook formats.
For more information, visit http://prinzogroup.com and/or http://nowishingrequired.com
# # #