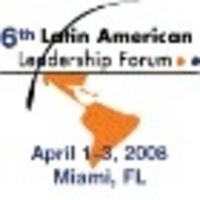 MIAMI (PRWEB) March 25, 2008
Winners will be announced on April 3 at 11:00 am, during the second day of the Leadership Forum. Nominees are the following:
Engineering (The most creative or challenging engineering project of 2007/8)
-- Rio Grijalva - Mexico
-- Rio de Janeiro Petrochemical Complex (Comperj) -Brazil
-- Ethanol Pipeline Logistics Project - Brazil
Equity/Job Creation (The project that will create the most jobs, and the greatest business opportunities, over the next 25 years)
-- Sao Paulo - Rio de Janeiro Bullet Train - Brazil
-- Panama Canal Project - Panama
-- Azua Bio-diesel Project - Dominican Republic
Long-term Performance (The project that has been operational for at least 5 years, and that demonstrates that infrastructure projects in Latin America perform to world class physical and financial standards)
-- Panama Canal - Panama
-- CFE Generation Program - Mexico
-- Chilean Water & Wastewater Investment Program - Chile
Finance (The financial structure that best points the way forward, in terms of a replicable model, so that the region might achieve the goal of tripling investment in infrastructure within the next five years).
-- San Jose-Caldera Highway - Costa Rica
-- Cedae IPO - Brazil
-- Puerto Plata - Dominican Republic
Strategic Project of the Year (The project - underway in the 2007/8 period - that promises to change the competitive face of the region)
-- Corredor Ferreo del Magdalena - (Ferrocarril Chilhuana-Villavieja) Colombia
-- Sao Paulo Mass Transit Digital Clearinghouse - Brazil
-- Panama Canal Expansion - Panama
The Project of the Year Awards - Underwritten by Leadership Forum Sponsors
Sponsors come from 13 countries, making the Leadership Forum a truly international event, and the Project of the Year awards a truly international recognition of excellence. Sponsors include: Platinum level - Barrick Gold/Pueblo Viejo; BCIE; CAF; CEI-RD; Globalia; and Gold level - Caixa, Citibank, Conduit Capital, Control Risks, Depfa Bank, Export Development Canada, ESRI, Fluitecnik, Globasol, Lacaz-Martins, Masada, World Bank/MIGA, NewLink Communications, Autopistas del Nordeste, Odebrecht, Panprojects, ProMexico, Roko-ki, and the US Department of Energy.
To see the full agenda and participant roster, please click on: http://www.cg-la.com.