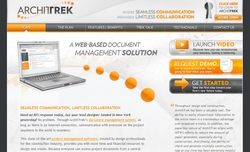 We are excited to show how our project management software created by design professionals can provide architects with more time and the financial resources to do what they do best - design and create
Baton Rouge, LA (PRWEB) April 28, 2009
ArchitTrek, project management software designed to provide seamless and transparent management of architectural design and construction project documents, will be on display & demonstrated at the AIA National Convention and Design Exposition in San Francisco April 30-May 2.
"We are excited to show how our project management software created by design professionals can provide architects with more time and the financial resources to do what they do best - design and create," said Greg Kleinpeter, manager of ArchitTrek. "This web-based document management solution for architectural firms revolutionizes the way businesses manage, communicate and collaborate during construction projects, providing immediate access to any project document, easy exchange of ideas and uploading of documents to anyone involved in the project via internet access."
The Louisiana based company is committed to having an active role in the architect & design community by exhibiting at shows such as AIA. Kleinpeter adds, "While we acknowledge that there are other project management software packages on the market; we feel our solution offers a much improved interface and document workflow for architects, designers and construction professionals over those offered by the competition. That's why it's important to us that we attend these tradeshows."
Kleinpeter said demonstrations of ArchitTrek will be available at the ArchitTrek booth during the conference. Some of the benefits of ArchitTrek are the ability to easily disseminate information to the entire team; the ability to check and generate multiple construction logs at any time, direct web access to critical job information; and real time availability of construction progress. In addition, its paperless nature promotes sustainability initiatives in the construction and design industry.
For more information, call toll-free 877-334-9331 or check the website at http://archittrek.com.
###