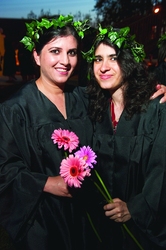 The PMI is a significant and exciting development for our fledgling program
Gainesville, Ga. (Vocus) September 21, 2010
Brenau University won recognition as a Registered Education Provider by Project Management Institute, the professional standards body that establishes globally recognized best practices, credentials for expertise and resources for professional development and networking in the project management profession.
The PMI sanction adds additional credibility to one of Brenau's newest – and most popular – graduate degree programs: the Master of Business Administration in Project Management. Since its inception in 2008 Brenau has graduated more than 100 project management M.B.A. students. It has just enrolled its fourth international cohort class, the largest ever, which includes more than 30 students from Taiwan, China, Afghanistan, Sweden, Libya, Ghana and the United States. All will work together on the university's Gainesville, Ga., campus.
"The PMI is a significant and exciting development for our fledgling program," said John R. Adams, Brenau's lead professor in project management program. "It is another validation that Brenau University offers innovative programs that solidify its commitment to provide a world-class education that meets employment needs of today and tomorrow."
Project management, which took on the mantle of an intensely valuable professional discipline during the early growth and development of America's space program and the race to the moon, now has wide applications in virtually every enterprise. In its simplest definition, project management involves planning, organizing and managing resources to bring about the successful achievement of goals and objectives of a specific activity.
"Projecting management skills, including the ability to effectively execute projects and identify and manage project risks," Adams said, "will be some of the most sought-after skills over the next five years."
According to PMI, the recognition as a Registered Education Provider means that Brenau has demonstrated that it is capable of providing world-class effective project management training. Before it awards the education provider designation, PMI tests the institutions against rigorous quality criteria for course content, instructor qualification and instructional design.
From students' perspectives, the development is extremely significant because it means that Brenau provides the project management training necessary for them to earn and to maintain Project Management Professional, Program Management Professional and other PMI professional certifications designed for project management practitioners.
"Because Brenau is recognized as a PMI Registered Education Provider, our students can get credit for completing courses that the PMI requires for individual certification," said Adams. "That is a very important step in building a project management career. By offering registered project management courses as part of an M.B.A. track, Brenau shortens the time it takes for a student's obtaining both a graduate university degree and professional certification."
Although Brenau offers the project management track on other campus, the home campus in Gainesville has been the source of the greatest growth in the program because of the cohorts of international students who enter and complete the 18-month program on the same schedule. Brenau started the program three years ago with 15 students from Taiwan with different levels of business experience. In early August Brenau graduated its second international cohort, which primarily comprised students from Taiwan and China, but also included some Europeans and Americans. The third cohort graduates in December, and the fourth began classes in late August.
PMI established criteria for project management education providers after surveying more than 5,000 project, program and portfolio managers around the globe. Currently there are more than 1,300 PMI-certified education providers around the globe. These organizations include commercial training providers that design complete educational systems, academic institutions, internal training offices at corporations and government agencies.
ABOUT BRENAU – Founded in 1878, Brenau University currently enrolls about 2,800 students in graduate, undergraduate and preparatory programs on campuses and online. The main campus of the Georgia-based liberal arts institution, which includes the Brenau Women's College, is in Gainesville with other campuses in Augusta, Kings Bay and in two metro Atlanta locations, Norcross and Fairburn. Brenau's 2011 ranking as one of the top 15-best higher education values in the Southeast by U.S. News & World Report marks the university's sixth consecutive year in that position for the magazine's America's Best Colleges guidebook. Brenau University also has been cited as one of the best colleges and universities to work for by The Chronicle of Higher Education and one of the best universities in the South by Princeton Review.
###