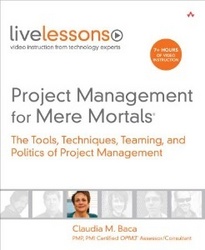 The LiveLessons video format makes it perfect for you to learn about one topic at one time and then come back at a later time and view a different subject
INDIANAPOLIS (PRWEB) August 9, 2007
NEWS FACTS
-- Project Management for Mere Mortals(R): The Tools, Techniques, Teaming and Politics of Project Management LiveLessons video includes a DVD featuring 3-4 hours of instructor-led classroom sessions divided into 15-20 minute step-by-step hands-on labs and a printed study guide.
-- Teaches the basics of project management, the role of project manager, and how PMBOK(R) (Project Management Body of Knowledge) fits into the equation.
-- Helps users understand the basics of building a team and balancing team dynamics.
-- Describes how to create project plans, schedules and budgets.
-- Explains advanced skills such as estimating, cost budgeting, baselining, and change control.
ABOUT THE AUTHOR
Claudia Baca, PMP, PMI Certified OPM3(R) Assessor/Consultant is an independent project management consultant, trainer and lecturer. She has lectured at private venues and PMI chapters across the world. She has more than 20 years of project management experience and serves on the leadership team that produced the Project Management Maturity OPM3 standard. Baca contributed to Kim Heldman's best-seller PMP: Project Management Professional Study Guide, and also served as its technical editor. In addition to her LiveLessons video, She also authored the book, Project Management for Mere Mortals(R), and is co-author of the PMP Project Management Professional Study Guide Deluxe Edition.
USEABLE QUOTE
"The LiveLessons video format makes it perfect for you to learn about one topic at one time and then come back at a later time and view a different subject," said author Claudia Baca. "My LiveLessons DVD is a great, inexpensive way to learn project management visually with real hands-on instruction."
ABOUT PEARSON EDUCATION
Educating 100 million people worldwide, Pearson Education (http://www.pearsoned.com) is the global leader in educational and professional publishing, providing scientifically research-based print and digital programs to help people of all ages learn at their own pace, in their own way. Professionals, leaders, academics, experts, and consultants draft the books and online resources that help develop today's and tomorrow's business leaders. Top technology companies who have chosen Pearson Education as their publishing partner include IBM, Symantec, Cisco, Adobe, and Macromedia. The company is home to such renowned publishing and information portal brands as Informit.com, IBM Press, Prentice Hall Professional, Addison-Wesley Professional, Peachpit Press, Cisco Press, Que Publishing and Sams Publishing. Pearson Education is part of Pearson (NYSE:PSO), the international media company. In addition to Pearson Education, Pearson's primary operations include the Financial Times Group and the Penguin Group.