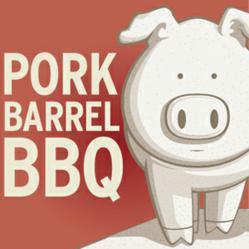 "It is a great honor for me to open Del Ray's first pop-up restaurant and bring my cutting edge cuisine back to the community I call home." ~Chef Will Artley
Washington, D.C. (PRWEB) January 30, 2012
Pork Barrel BBQ co-founders Heath Hall and Brett Thompson along with their restaurant partners "Mango" Mike Anderson and Bill Blackburn are thrilled to be loaning the currently unoccupied space adjoining their Pork Barrel BBQ Restaurant in the Del Ray neighborhood of Alexandria to Del Ray's favorite chef and one of Washington, D.C.'s top chefs, Will Artley, for the opening of a special pop-up restaurant. Artley's limited engagement restaurant, dubbed Project 2312 will host 41 guests per seating during its limited run from Monday, January 30 through Monday, February 6.
The highly anticipated Project 2312 pop-up restaurant is a first for Artley and the Del Ray community. Reservations for Project 2312 were sold out within 5 hours of Artley tweeting the RSVP phone number last week.
Chef Artley is planning an a la carte menu that will include a selection of hot and cold appetizers and 5-6 entrée options chosen from his greatest hits, along with craft cocktails, a limited wine selection and Pork City beer. Expect to see items like Salt Roasted Beat "Cannoli" with whipped Citrus and Cobb Terrine with Crispy-Smoked Pork Ears among the menu selection. Artley will also offer customers fare from a pickling bar with a selection of unique and creative pickles including pickled sunchokes, green beans and baby carrots.
"It is a great honor for me to open Del Ray's first pop-up restaurant and bring my cutting edge cuisine back to the community I call home," said Artley, chef of Project 2312. "The opportunity to reconnect with my old kitchen crews and cook for the neighborhood that made me the chef I am today is just an amazing feeling!"
Artley, who has been consulting with the Pork Barrel BBQ team on their recently opened barbecue restaurant, is most widely known for his role as chef of the Evening Star Café.
"Chef Artley has become a great friend and culinary mentor of mine and I'm excited Pork Barrel BBQ is able to support his passion for creating distinctive and delicious cuisine by playing a small role in his Project 2312 pop-up restaurant," said Hall. "His passion for food is contagious and I'm certain diners who have been lucky enough to snag one of the limited seats will leave with a bittersweet feeling satisfied by their meal, but disappointed in the realization it was most likely their first and last meal at Project 2312."
Hall and a handful of acclaimed DC area chefs will make special appearances during the limited engagement of Project 2312 and cook alongside Artley.
If you weren't able to secure an RSVP to Project 2312 before reservations were sold out there are still two options. Project 2312 is accepting walk-ins on a first-come, first-served basis for seating at the bar, or you can venture next door to Pork Barrel BBQ and celebrate Meat Week 2012 with a special Meat Week Sampler Patter, which includes 1/4 pound of brisket, 1/4 pound of pulled pork, 1/4 chicken, 3 ribs, 1 Texas brisket sausage link and your choice of 2 sides for $20.12 on Tuesday, January 31.
Find out more about Meat Week and the first tasting of Pork Barrel BBQ's latest sauce, Pork Barrel BBQ Carolina Vinegar BBQ Sauce here.
For more information about Pork Barrel BBQ, visit http://www.porkbarrelbbq.com and read about their latest updates and adventures on Facebook, Twitter (@porkbarrelbbq) and the company's blog.
About Pork Barrel BBQ
Pork Barrel BBQ was founded in December 2008 during the peak of the economic crisis to prove that a company not owned or operated by the federal government could succeed, and that if you had a good idea, it was still possible to grab a piece of the American Dream. Pork Barrel BBQ founders, Heath Hall and Brett Thompson, ran the company out of the basement of their houses, selling their award winning BBQ products one bottle at a time. In less than one year, their Pork Barrel BBQ Sauces and Spice Rub were carried in over 1,000 stores in 40 states. Throughout their journey, they have stayed true to their mission – to unite the nation through the great tradition of BBQ, and bring bipartisan flavor to your next meal. The Pork Barrel BBQ Competition BBQ Team entered its first contest, The Safeway National Capital Barbecue Battle, in June 2009, and walked away with two trophies – Second Place in the "Nations Best BBQ Sauce Contest" and Fourth Place for their pulled pork in the Memphis In May portion of the contest. Since then, the team has won multiple awards, including the 2011 Perdue National Chicken Championship, the Safeway National Capital Barbecue Battle in 2011, the "Chinet People's Choice" award for best BBQ sauce in 2010 and other notable Memphis in May and Kansas City Barbecue Society BBQ competition accolades as well as having their Pork Barrel BBQ Original BBQ Sauce named Best Sauce in America and one of "The 125 Best Foods for Men" by Men's Health Magazine in November 2010. For more information, visit http://www.PorkBarrelBBQ.com or follow Pork Barrel BBQ on Facebook and Twitter (@porkbarrelbbq).
###