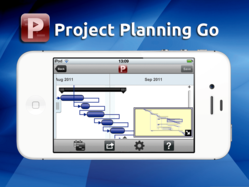 Create plans and schedules instantly with this useful app. Import existing Microsoft project plans and edit/update it on the go.
Mystic, CT (PRWEB) August 29, 2012
Project Planning Go is the most ideal app to easily create new project plans on the iPhone. Existing Microsoft Project Plans can also be easily imported to the iPhone and edited and tweaked on the go.
Project Planning Go is the latest addition to the series of Project Management apps being developed by i2e Consulting LLC. The iPad version of the app Project Planning Pro has ranked 2nd in the US Store for the Top Business Free apps Category
Creating new plans from scratch can easily be achieved with the intuitive user interface guiding the user through each step of plan creation. Add tasks and assign all 4 types of task relationships by just moving the interactive Gantt Bar. The dynamic Gantt chart, bird's eye view, filters and pinch-to-zoom options make it very simple to manage complex and large plans.
Make quick modifications to task start/end dates and task durations by just moving the Gantt bar. The calendar view, critical path view and plan filtering features provide for easy project and task management.
Plan collaboration is made easy with multiple share options across devices (iPad/iPhone).
Project Planning Go also provides multiple options to import existing Microsoft Project plans via email, Dropbox or iTunes.
Key Features:

Create or Import Project Plans/Schedule
4 types of task links – finish-to-start (FS), start-to-start (SS), finish-to-finish (FF) and start-to-finish (SF)
Interactive Gantt: Tap or pinch Gantt bar to change dates and durations
Gantt view, Calendar view and Critical path view to analyze and review your plans
Assign resources
Reorder Tasks
Backup and Restore plans
Bird's-eye view of Gantt for easy navigation
Slider bar to increase viewing area for Gantt or Table view
Filter tasks by task name, duration, %complete, start date, finish date and resource
Create plan templates and export to Dropbox or email
Import plan from MS Project via Dropbox, Email and iTunes
Share plans as Planning Pro file (.ppp)
Share plans as PDF file
Share plans as CSV file
Import and view project risk from Risk Register+ (.prr)
Pricing and Availability:
The app is free to download and try with in-app purchase for unrestricted access at an introductory offer of just USD 5.99
iTunes store link:
Project Planning Go app iPhone
Press Kit:
About the developers:
Based in Mystic, Connecticut, i2e Consulting is a software services company providing innovative Enterprise solutions to clients across the Globe. i2e Consulting is a Microsoft Certified partner with niche in Portfolio Project Management. i2e Consulting Mobile division is developing on iOS, Android and Windows Apps.
Copyright © 2012 i2e Consulting. All Rights Reserved. Apple, the Apple logo, iPhone, iPod and iPad are registered trademarks of Apple Inc. in the U.S. and/or other countries. Microsoft and Microsoft Project are registered trademarks of Microsoft Corporation in the U.S. and/or other countries.