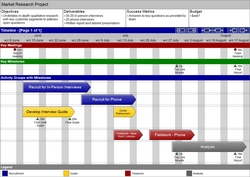 This trial extension option makes it easier for prospective customers to try Swiftlight for an extended period at nominal cost, with little risk
New York, NY (PRWEB) June 16, 2010
Business managers and executives, management consultants and project managers can now take Swiftlight project management software for a trial spin for up to 90 days.
Torridon Solutions today announced a new purchase option for prospective customers. After their 30-day free trial expires, users may now purchase an additional 60-day trial extension for $49.50, a sum which can then be credited toward the later purchase of a $299 single-user license for the software.
"While around half our trial users make up their minds about Swiftlight in the first 30 days, the other half are telling us in survey after survey that they want more time to dive into Swiftlight - time to discover how it can help them to manage projects and navigate their way ahead," said Peter McWhinnie, chief executive officer of Torridon.
"When people get a good chance to use Swiftlight, many of them really like it. We're getting fantastic conversion rates from try to buy," said Mike Scott, chief operating officer of Torridon, "but many people are so busy that the 30 days goes by in a flash and they're not really getting the chance to find out how helpful Swiftlight can be. This trial extension option makes it easier for prospective customers to try Swiftlight for an extended period at nominal cost, with little risk."
About Swiftlight
Swiftlight is a project management software application that saves time, creates clarity and gets results for its users. It offers a planning structure, high quality visuals and outstanding ease of use. Created to meet the needs of a broad range of business managers, executives and consultants, rather than just project management experts, Swiftlight is particularly well-suited to planning and progress reporting for "smaller scale" or "less complex" projects.
For people who find Microsoft Project too complex, and managing projects in Excel and PowerPoint very time-consuming, Swiftlight can quickly generate clear, presentation-ready plans and progress reports for initiatives such as product launches, strategy reviews, operational improvement initiatives or annual planning.
For specialist project managers with larger IT, engineering or R&D projects, Swiftlight makes it easy to articulate and visualize "the big picture," with outputs that can capture timelines, objectives, deliverables and measures of success all on one page. Swiftlight also provides links to MS Project to simplify project reporting.
For more information on Swiftlight, watch the video overview or review the product details on the Swiftlight website.
Swiftlight is designed for desktop and laptop computers configured with Microsoft Windows 7, Vista or XP. A single user license can be purchased for $299.
A free 30 day trial of Swiftlight is available here, and for more information on the 60 day trial extension click here.
About Torridon
Founded in 2005 and privately held, operating from London as Torridon Solutions Ltd. and from New York as Torridon Solutions Inc., the mission of Torridon Solutions is to make life easier for managers and the companies they work for by designing, creating and distributing practical and innovative software for the world of planning, project management and management communication. Torridon Solutions has customers in 17 countries, predominantly in North America and Europe.
###