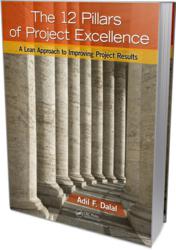 Taking organizations to an age of engagement, empowerment, and enlightenment.
Austin, TX (PRWEB) August 08, 2012
The 12 Pillars of Project Excellence: A Lean Approach to Improving Project Results, by author, Adil Dalal which is being regarded as the quintessential text for business excellence, is now available in an e-Texbook format. Pinnacle Process Solutions, Intl®, LLC is offering the e-Textbook version for a limited time at a 30% discount and a paperback format at a 20% discount at http://www.pinnacleprocess.com/pinnacle-store-products.html.
John Salazar, former CIO of the State of New Mexico, recommends The 12 Pillars as "one of the best books I have ever read on project leadership." Released by CRC Press in October 2011, Dalal's 12 Pillars explores his pioneering concepts in leadership and project management, including the five powers of great leaders, appreciating assets, dynamic risk analysis, the power of visualization™, and the science of simplicity™. Dalal's philosophy of project leadership emphasizes a culture of engagement, empowerment and enlightenment across the organization. A renowned project leader and a lean sensei, who has successfully directed over 300 projects for firms all over the globe, Dalal is the pioneering the field of lean project leadership™ and has merged two major knowledge-bases of project management and lean thinking to accelerate business excellence during these tough economic times. Phil Taylor, an expert on Napoleon Hill philosophy, calls Dalal's trademark methodology as "a modern day Law of Success."
Mikel Harry, the co-creator of Six Sigma, praised the book for its practical approach to project management. "Not only does the book provide the fundamental tools that leaders need to get better project results, it lays out the way of thinking that underpins success." In a time when projects in all industries continue to go uncompleted or achieve less than desirable results, Dalal's cutting edge techniques have been praised for their ability to produce "six sigma type results or failure-free projects".
William Scherkenbach, a student of Dr. Deming and a recipient of the vaunted Deming Medal, commended the author for the book's straight-shooting style. "What struck me about this book…is the simple, no-nonsense, practical, and enlightened advice Dalal provides to transform individuals and corporations."
The 12 Pillars of Project Excellence has been called a "must-read and apply" not just for project managers but for a much wider audience. It is a comprehensive workbook with theory, case-studies, novel solutions and a CD which provides a powerful self-assessments, and organizational-assessments. Dr. Vijay Mahajan, Associate Dean of Research at the Texas A&M University Graduate School of Business, says, "The 12 Pillars of Project Excellence book is a true innovation in leadership and human-side of project management. I highly recommend this book to individuals who wish to be excellent leaders, organizations who wish to consistently run profitable projects and universities who wish to develop future leaders and executives."
Dalal's book is the latest in a long string of success stories spanning his 15 year career in project management and lean transformations. The author, who serves as the Chair of Human Development & Leadership division of ASQ since 2010, generously shares his knowledge with his readers out of a passion to motivate other project leaders to dream big. "The purpose of the 12 Pillars of Project Excellence is to share with you a practical blueprint that will allow you to convert the skill-set of management into a permanent mind-set of excellence."