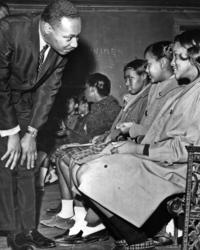 The ability to find and digitize images of individuals is hugely important in telling the story of the African American community and making this history available to the public."
Baltimore, MD (PRWEB) July 31, 2012
On July 15, 2012, Gado Images launched a new facial recognition capability that makes it significantly easier to search by person in the photographic collection of African American heritage of the Afro-American Newspapers.
Archives like the Afro-American's often face a challenge in finding specific individuals within their vast collections. While many of the Afro's 1.5 million images have been digitized and made available online at http://www.gadoimages.com, one problem for researchers has been that photos are not always filed by the names of individual subjects. A photo of Martin Luther King, Jr. standing in front of the Enoch Pratt Library might only be found in a file labeled "Enoch Pratt Library". With Gado Images' new facial recognition tool, researchers can find every image of Dr. King in the collection no matter how the image is categorized.
"We are excited about launching this new facial recognition capability because of what it means for genealogy researchers trying to locate images of individuals in the AFRO's archives," says Tom Smith, project manager of Project Gado. "The ability to find and digitize images of individuals is hugely important in telling the story of the African American community and making this history available to the public."
On July 21, the AFRO hosted a breakfast at the Reginald F. Lewis Museum of Maryland African American History & Culture in honor of the legendary AFRO PaperBoys and PaperGirls. This event, attended by Congressman Elijah E. Cummings and Kweisi Mfume, produced numerous requests from former Afro PaperBoys and PaperGirls seeking photos of themselves in the AFRO's archives.
Whether looking for personal photos of family and friends or historic photos of Civil Rights leaders, performing artists, celebrated sports figures, Gado Images can help. Requests for images of specific individuals can be submitted to amy(at)esdallc.com. Scholars and community members interested in African American history and heritage may visit http://www.gadoimages.com to view and purchase licenses and prints for their own use.
About Project Gado
Project Gado has created an autonomous open source archival scanning robot which small archives can use to digitize their photographic collections. This project grew out of the Johns Hopkins University Center for Africana Studies, and now includes the JHU Sheridan Libraries and the Afro-American Newspapers. For more information about Project Gado, please contact Amy Smith at amy(at)esdallc.com or visit http://www.projectgado.org.
About Gado Images
Gado Images provides historical photo licenses and prints. Currently, the collection contains selections from the archives of the Afro-American Newspapers. Many images are newly digitized, and many have never been published previously. All images are digitized using revolutionary scanning technology developed by Project Gado. Images are property of the Afro American Newspapers unless otherwise noted. For more information, please visit http://www.gadoimages.com .
About The Afro-American
The Afro-American is one of the oldest, family-owned, continuously publishing newspapers in the country. It was founded in 1892 by John H. Murphy Sr., a former slave, and continues to provide world-class news coverage to this day. For more information, visit http://www.afro.com.
###