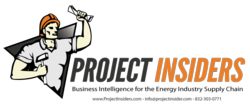 After years in the Energy Industry Supply Chain I've come to understand the value and need for current, actionable sales intelligence in the energy industry - Kenley Clark
Houston, TX (PRWEB) May 15, 2012
ProjectInsiders.com has launched a new service to provide the supply chain in the energy industry a guide to major capital projects being developed in the North American Oil and Gas Industry. The service, which consists of a suite of 48 separate industry reports, is generated by a proprietary database created and maintained by ProjectInsiders.com and updated 24 times per year ensuring accurate and up to date information on major capital projects.
The reports cover major capital projects in the Upstream, Midstream, Downstream, and LNG sectors of the energy industry and provide project details such as project name, location, owner, operator, description, capacity, cost, and contractors at various stages of development. More information on the project reports and sample reports are available at ProjectInsiders.com.
The reports are designed to give the energy industry supply chain , including providers of services and equipment, an inside view of projects being developed in the industry, giving companies greater knowledge of the project development schedules, who is responsible for which parts of the project, and contacts working on the projects.
The reports are generated from a proprietary database maintained by a research team of industry specialists at ProjectInsiders.com and are continually updated to ensure up to date and accurate information. The database currently tracks over 700 capital investment projects that have been announced and/or are currently being developed. As new projects are announced, or as projects proceed in the development process, the database is updated with pertinent information and new reports are generated and released approximately twice per month.
Another feature of the new service important to the sales and business development teams in the energy industry is the inclusion of over 2600 contacts including their name, company, position and Linkedin profiles. These contacts have been identified as working on individual projects contained in the reports and provide companies with a direct starting point for marketing their products.
The new project reports services offered by ProjectInsiders.com will support companies in the energy industry supply chain to find new potential targets for the products and services. For more information on ProjectInsiders.com and their products see their website or contact Kenley Clark at +1 832-303-0771.
ProjectInsiders.com is a leading sales and business development intelligence provider serving companies in the industrial sales market that provide products and services to large capital investment projects in the energy industry. Our focus is on providing companies in the supply chain with the information and knowledge they need to successfully market and sell their products to their customers. Visit ProjectInsiders.com for more information.