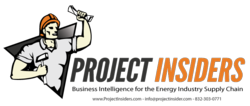 We're excited about launching Project-of-the-Week and the ability to offer those in the industry a peek at the sort of business intelligence our research team regularly gathers on major energy construction projects – Kenley Clark
Houston, TX (PRWEB) July 10, 2012
ProjectInsiders.com has implemented a new "Project of the Week" feature on their website that allows immediate and free access to sales information on key projects in the Oil and Gas Industry in North America. The feature offers a comprehensive look each week at a major energy industry construction project including detailed information on Owner/Operators, key Contractors, major project developments and key personnel directly involved in the project.
ProjectInsiders.com currently tracks over 830 major capital projects, both under construction and in early-stage development in the North American Oil and Gas market. These projects represent $850 billion in current and future investment in the energy sector over the next 10 years across the entire Oil and Gas Industry value chain including Upstream, Midstream, Downstream, and LNG.
The projects covered in the "Project of the Week" reports are carefully chosen from ProjectInsiders.com's proprietary energy construction database and shown in full as they exist within their Sales Intelligence Reports. Over the next six months the "Project of the Week" reports will feature the following projects:

Jack/St Malo (Chevron)
Corpus Christi Liquefaction (Cheniere Energy)
Hebron (ExxonMobil)
USGC Petrochemicals Project (Chevron)
Jackfish 3 (Devon Energy)
Lucius Subsea Oil Export Pipeline (Enterprise Products)
Kirby North Phase 1 (Canadian Natural Resources Ltd)
Whiting Refinery Modernization Project (BP)
Alaska North Slope Gas Pipeline (ExxonMobil)
Freeport LNG (Freeport LNG Development LLC)
Keystone XL Hardisty to Steele City (TransCanada)
Cameron Liquefaction (Sempra LNG)
Adams Fork Coal Gasification Plant (TransGas Development)
Big Foot (Chevron)
Ethylene XXI (Braskem-Idesa)
Alberta Carbon Trunk Line (Enhance Energy)
Lucius (Anadarko)
Dow Mitsui Falcon Chlor-Alkali (Dow Chemical)
Amberjack Pipeline for Jack/St Malo Export (Amberjack Pipeline)
Kearl Oil Sands Phase 1 (Imperial Oil)
Greencore CO2 Pipeline (Denbury Resources)
Hess Tioga Gas Plant Expansion (Hess)
Detroit Heavy Oil Upgrade (Marathon Petroleum Corp)
Douglas Channel LNG (Douglas Channel Energy Partnership)
ProjectInsiders.com is an independent energy research and analysis firm that provides up-to-date intelligence on major capital construction projects in the energy industry across the entire Oil & Gas Industry value chain including Upstream, Midstream, Downstream, and LNG. ProjectInsiders.com Sales Intelligence Reports focus on providing current and actionable information to clients in the industrial sales market that provide products and services to large capital investment projects in the energy industry. Visit ProjectInsiders.com for more information.
For more information on ProjectInsiders.com and their products visit their website or contact Kenley Clark at kenley(dot)clark(at)projectinsiders(dot)com or +1 832-303-0771.