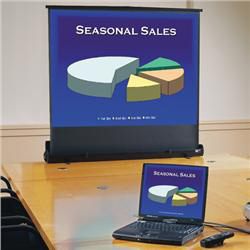 Mc Elhattan, PA (Vocus) March 15, 2010
Brodart Supplies & Furnishings introduces two new portable projection screens, perfect for presentations on the road or even personal movie viewing.
Brodart now carries two varieties of portable projection screens: the RecordEx USA MicroLite Presentation Screen and the Draper GreenGuard Traveler Projection Screens.
The MicroLite screen is the perfect screen for making presentations on the road. It folds up to about the size of an umbrella for ultimate transportability and is ready to go in about 60 seconds. Its 40 or 50" smooth surface screen sizes make it ideal for heavy text presentations.
The Draper screen is equipped with a built-in carry handle and shoulder strap for convenient mobility. The 50, 60, or 100" screens have a matte white screen surface, and can be raised, lowered, and locked into place to keep the screen at the perfect viewing height.
To take a closer look at Brodart's new portable projection screens.
ABOUT BRODART CO.
Since 1939, Schools and Libraries alike have turned to Brodart Supplies & Furnishings for everything to keep their libraries running smoothly. From book covers and book supports to kids wall murals, Brodart Supplies & Furnishings is a one stop shop for all your library supplies. From humble beginnings, Brodart has grown to become an international company, serving libraries from the Northwest Territories to the Pacific Rim, with facilities in the United States and Canada. Brodart truly has evolved into a full-service library supply company. For additional information about Brodart Supplies & Furnishings, please visit shopbrodart.com or brodart.ca for our Canadian users, or call 1.888.820.4377 in the United States or 1.800.265.8470 from Canada.
# # #