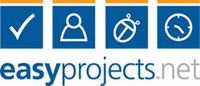 (PRWEB) June 17, 2010
Easy Projects .NET announced today a comprehensive update to its web-based project management and collaboration suite, Easy Projects .NET Version 7.0. Designed and developed with extensive user feedback, this new version of Easy Projects .NET focuses on delivering an improved web-based project and resource management functionality. The update introduces several new features aimed at optimizing the end-user experience and efficiency. Easy Projects .NET Version 7.0 represents the company's dedication to its clients by delivering software built to suit the needs of businesses and organizations world-wide.
New Easy Projects .NET features include:

Improved user experience – usability improvements to the interface, built-in video tutorials, shortcuts and contextual menus make end-user workflow easier and more efficient.
Resource workload display during activity assignments - provides project managers a visual representation of how the particular user is utilized over the current month on all projects.
Weekly View grid for Time Logs – allows users to quickly add billable and non-billable time log entries for the entire week.
Improved batch operations – quickly select and un-select all projects/activities when performing batch operations such as delete or copy activities.
Changing user roles for all projects
Polish translation
Optimized activity and project progress – provides project managers accurate, up to the second information on their on-going activities and projects.
"It is our fundamental belief that listening to your client's feedback is crucial in creating effective and successful software." says Vadim Katcherovski, CEO and founder of Easy Projects .NET. "In developing this new version, our goal was to analyze and improve on the existing functionality of Easy Projects .NET. The feedback we gathered from our users over the course of last year has tremendously helped us in achieving that goal."
Developed since 2003, Easy Projects .NET is a web-based all-in-one project management module set with functionality including Unlimited Project and Task Tracking, Interactive Gantt Chart, Online Collaboration, Timesheets, Issue Tracking and Change Request Management. Easy Projects .NET Version 7.0 extends and improves existing project management modules.
Easy Projects .NET Version 7.0 is available as a hosted or in-house solution starting at $24.99/month per user or less. Full pricing information and a FREE Trial Sign-Up are available at easyprojects.net/Plans/
###