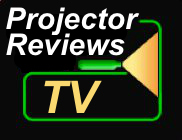 Making video summaries of the best projectors' reviews is a blast. Enjoy them!
San Clemente, CA (PRWEB) July 31, 2012
Projector Reviews Inc. is thrilled to introduce its new video channel, Projector Reviews TV.
Projector Reviews TV offers lively videos that summarize the in-depth written reviews on ProjectorReviews.com, as well as FAQ videos.
Two videos have been released thus far: video summaries of the award-winning Epson Home Cinema 6010 and similarly exceptional Panasonic PT-AR100U home theater projectors. Three more videos will be added later this week, including summaries of the Epson MG-850HD and Optoma PK320 projectors.
Eight additional videos are currently in post-production. All (and more) will be online before Labor Day. Plans call for an additional 20 videos by year-end.
A projector or accessory becomes eligible for a video summary when it earns one of the Projector Reviews awards, including our Hot Product Awards and Best In Class Awards.
In addition to video summaries, some of the topics we will cover in our videos this year are: Choosing the right home theater projector for your family room environment, selecting the best projector screen for your room and viewing preferences, understanding the importance of black levels, important features when selecting a portable projector, an overview of pico and pocket projectors and more.
Editor Art Feierman has this to say of the project: "We're having a lot of fun taking the same information we've been writing about for years and reworking it for the convenience of those who prefer video media! Making video summaries of the best projectors' reviews is a blast. Enjoy them!
All Projector Reviews TV videos will be easily accessible from our website. To find them, just click the tab on the top of our site, second from the left (available here). In addition, a select number of these videos will also be available on YouTube.
About Projector Reviews:
Based in San Clemente, CA, ProjectorReviews.com provides an in-depth look into the industry's top home theater projectors. Art Feierman and the rest of the Projector Reviews staff have been reviewing both home and business / education projectors since 2000.
The Projector Reviews website and blogs reach approximately one and a half million unique visitors a year. That's a whole lot of folks interested in projectors.
To contact Projector Reviews, email Art Feierman at reviewer(at)projectorreviews(dot)com or call (949) 291-2867.