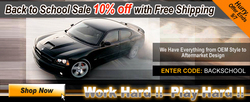 City of Industry, CA (Vocus) September 4, 2010
The leading distributor of aftermarket car parts and accessories lists two reasons why clients should purchase headlights and other quality parts from CarPart4U.com: CarPart4U.com loves modifying cars as much as its customers, and the premier headlights retailer cares about cars as much as its clients do.
Aside from carrying headlights and other car parts and accessories, CarPart4U.com also offers a wide selection of products from headlights to taillights, from intakes to catback exhausts. Our inventory covers everything car lovers need to make their car look, sound, and perform better. With the performance gain from car parts purchased from CarPart4U.com, clients are assured highest quality the company has to offer when it comes to headlights, LED license plates, and other car parts products. Additionally, all products from CarPart4U.com have passed extensive testing as well as meeting different government required standards. CarPart4U.com carries parts and accessories for manufacturers such as Acura, BMW, Dodge, Eagle, and Ford, among a few.
To offer clients the best shopping experience, CarPart4U.com is still running its Back to School Sale. Customers can receive 10% off on all products such as lighting, engine/performance, exterior/interior styling, suspension, accessories, and combos from now until September 7, 2010. Projector headlights, offered in chrome and black, are now available for a low price of $45.00, giving consumers a chance to save as much as 23% from its market price of $58.50. Cold air intake systems can now be purchased for only $53.00, with savings of 77% from its market price of $230.00. CarPart4U.com has everything from OEM style to aftermarket designs.
Save up to 60% on aftermarket auto parts with CarPart4U.com's low price guarantee. Besides free shipping on all domestic orders (placed within the 48 Continental U.S. states), the leading headlights distributor also introduces an easy return policy, backing all products with the very best in customer service. From headlights and lighting parts, CarPart4U.com has expanded its portfolio to include performance parts like CAI (Cold Air Intake) short ram intakes, racing mid pipes, and cat back exhausts, to name a few. Simply sign up with the company's newsletter or visit CarPart4U.com's official blog for the latest promotions and updates.
About Carpart4u.com
Based in City of Industry, CA, Carpart4u.com is a wholesaler of car parts and accessories. With top quality products such as headlights, tail lights, lightbulbs, car systems, and styling accessories to name a few, Carpart4u.com backs all its products with a low price guarantee and free shipping in the 48 states. Press release produced by Cybertegic.com - an internet marketing services agency that specializes in search engine optimized press release marketing (SEO marketing).
###