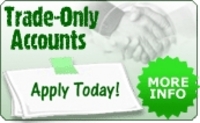 Henderson, NV (PRWEB) December 19, 2008
MyProjectorLamps.com is pleased to announce that trade-only accounts are now available to installers, resellers and audio visual companies as well as military, government, educational institutions, churches and worship centers. The accounts are available to groups that purchase multiple projector lamps throughout the year.
Trade-only accounts at MyProjectorLamps.com offer increasingly significant discounts for account holders based upon the number of projector lamps they buy throughout the year. An approved application for the trade-only account will automatically apply a 5% discount to all the pricing on the website. A discounting threshold chart will also be emailed to successful applicants and details the increasing discounts account holders receive with the account.
In addition to progressive discounting, clients that sign-up for the trade-only account at MyProjectorLamps.com receive additional tools that they can access from the website. These tools include a detailed purchase history summary, invoice display and tracking features.
The invoice display allows customers to display any one of their previous projector lamp invoices on the website in a printable window, allowing customers easy access to their purchase history. Every invoice is also linked to a FedEx tracking number that gives customers point-and-click access to shipping progress live on the website.
MyProjectorLamps.com is a private company that has been in operation since February 2005. The company sells projector lamps for DLP and LCD projectors as well as rear projection televisions. For investor questions or projector lamp account holder applications please visit the website at http://www.myprojectorlamps.com. Alternatively, you may call Sales Director Russell Snyder at 1-888-785-2677 x3
###