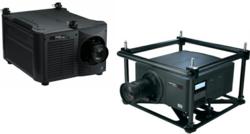 (PRWEB) April 02, 2012
Rentex, specializing in a wide range of computer and audio visual rentals, has announced that it now offers two large venue projectors from Christie. The Roadster HD10K-M and Roadster HD20K-J are 3-chip DLP® projectors that are available with a wide range of lens options – all with Intelligent Lens System (ILS™) capabilities. Each projector rental, like with the company's other projection and audio visual equipment, can be delivered to most cities in the United States, and includes free maintenance and technical support during the entire rental.
The Roadster HD10K-M is 10,000 lumens (11,000 center) while the HD20K-J is 18,000 lumens (20,000 center) and both feature 1920 x 1080 HD resolution. Both specification sheets are available on the Rentex website and like any other DLP projector rental you can request a quote online as well.
Rob Garvey, Sales Manager for Rentex, said "We are proud to offer high-end projectors for advanced business applications. This enables Rentex to provide the new Christie projectors and any other piece of audio visual equipment needed for just about any requirement, with all of the benefits that go along with renting from us at the guaranteed lowest rental rates available in the industry."
These projectors are ideal for large venues, including buildings, churches, classrooms, concerts, conference rooms, live events, tradeshows and more. The Roadster HD20K-J projector provides more lumens per watt in the smallest chassis in its class and with the additional standard features that both projectors showcase ensures you are getting the highest performance with the peace of mind that Christie products are known for.
"The new projectors from Christie bring our rental inventory to a whole new level," said Don Gaskill, VP of Operations. "Daily, weekly, and monthly rentals are available. Businesses that need high-end equipment can get the best of performance during important presentations and meetings. Our large product line and dependable service suits any business within the United States."
Customers can now rent a projector built by Christie and other top manufactures such as Panasonic, Eiki, and Optoma. Each projector rental is subject to the Rentex Low Price Guarantee; the company will beat a lower rate by up to 10% if one is found elsewhere. For more information on the over 1,200 DLP and LCD projectors available for rental, and the company's other computer and audio visual product offerings, visit http://www.rentex.com.
About Rentex
One of the largest computer rental equipment providers in the United States, Rentex has over 35,000 pieces of inventory available, including computers, laptops, projectors, displays, professional audio/video equipment, and office equipment available for delivery to anywhere in the nation. Same-day delivery is available for many cities and maintenance is free for the duration of all rentals. The company maintains several warehouses across the country supporting an inventory of thousands of pieces of equipment.