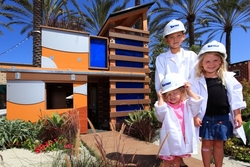 It's been estimated that on any given weekend, the Irvine Spectrum Center has as many visitors as Disneyland. Thanks to Project Playhouse and the Ocean Adventure Lab, these visitors get to learn more about real world green building techniques, sustainability, and how they can help turn a playhouse into a home
Irvine, CA (Vocus) August 5, 2010
In this year's Project Playhouse fundraiser there's a new team on the block. The Ocean Adventure Lab is one of seven playhouses currently on display at the Irvine Spectrum Center through September 5, 2010. Built by a "consortium" of companies that value environmentally friendly design, the lab is one of two green entries in Project Playhouse's 19-year-run.
Ocean Adventure Lab Builder: Turner Construction Company
Ocean Adventure Lab Architect, Interior Designer, Landscape Architect and Electrical Engineer: LPA Inc.
Ocean Adventure Lab Partner: ProRepro
Ocean Adventure Interior Builder: Tangram Interiors
To pronounce and celebrate the Ocean Adventure Lab's greenness, the U.S. Green Building Council (USGBC) – Orange County Chapter will present an Honorary Certification during a plaque ceremony on Tuesday, Aug. 10. USGBC is the organization behind the Leadership in Energy and Environmental Design (LEED) Green Building Rating System.
Honorary Plaque Ceremony time and location: Project Playhouse Village at the Irvine Spectrum Center (99 Fortune Dr Irvine, CA 92618), near Macy's from noon to 1 p.m.
The ceremony is open to the public, and RSVP is not required.
While the playhouses are not eligible for official LEED certification, the Ocean Adventure Lab is being recognized for its application of LEED principles and design and construction practices.
During the ceremony, the Ocean Adventure Lab will receive its kid-friendly bamboo plaque, and all LEED Accredited Professionals (LEED AP's) who worked on the playhouse will be recognized with continuing education credits from USGBC National.
Project Playhouse is the signature, annual fundraiser for HomeAid Orange County -- the founding chapter of a national non-profit organization with mission to build and maintain dignified housing where homeless families and individuals can rebuild their lives.
More playhouse than dollhouse, everything about the Ocean Adventure Lab points to learning, having fun and caring for the environment –both at sea and on land. Inside the lab, one finds a working wave tank, microscopes, oceanography books, a working projector featuring underwater sea creatures, and a Playstation 2 (Ps2). Designers worked with the Ocean Institute in Dana Point to get everything just right.
Sustainable features of the playhouse include:

Use of locally manufactured and rescued materials in addition to those made with recycled contents.
Use of drought-tolerant, California native vegetation.
A truth wall which exposes the contents of the green playhouse --100% natural wool insulation, piping, and a structure made of composite wood.
Energy efficient luminaires and LED lighting.
Panels and a sliding door comprised of Trex Accents, which gives the appearance of wood without the inconvenience of splinters. Trex is made of 95 percent recycled materials.
Source of renewable energy in the form of Suntech Black Label photovoltaic solar modules on the roof. This makes the playhouse a net zero structure, which means it produces as much power as it consumes.
"It's been estimated that on any given weekend, the Irvine Spectrum Center has as many visitors as Disneyland. Thanks to Project Playhouse and the Ocean Adventure Lab, these visitors get to learn more about real world green building techniques, sustainability, and how they can help turn a playhouse into a home," says LPA President Dan Heinfeld.
Online Photo Gallery: Additional Project Playhouse Entries
About Project Playhouse
Project Playhouse debuted in 1992 and for 18 years, dedicated builders, trades, architects and designers have donated their talents and resources to create whimsical playhouses which bring a fantasy playhouse village to life. Village tour and opportunity drawing ticket sales along with the playhouse auction sales have raised more than $5.5 million to help HomeAid build or renovate 47 housing developments for homeless men, women and children.
About HomeAid
Founded in 1989 by the Orange County Chapter of the Building Industry Association of Southern California, HomeAid acts as the housing developer and liaison. HomeAid brings together service providers, community volunteers, builders and specialty contractors to build housing for a population in our community that are often forgotten - victims of domestic violence, pregnant homeless women, abused and abandoned children and homeless families.
About USGBC Orange County
The USGBC-OC Chapter's mission is to engage all Green Building stakeholders to be the conduit of change for a more sustainable Orange County through innovative communication, education, resources and advocacy. Members include developers, designers, investors, manufacturers, architects, facility managers, engineers and builders working together to foster more sustainable, healthy and prosperous communities in Orange County. The USGBC-OC Chapter has more than 400 active members and 4,000 affiliated Orange County residents on its distribution list.
About LPA Inc.
Founded in 1965, LPA has more than 220 employees with offices in Irvine, Roseville, and San Diego, Calif. LPA provides services in architecture, planning, interior design, engineering, landscape architecture, signage and graphics. LPA has designed more LEED certified buildings than any firm in the state and of their employees, more than 78 percent are LEED accredited professionals. With extensive experience in public and private architecture, LPA designs a diversity of facilities that span from K-12 schools, colleges and universities, to corporate and civic establishments. This is LPA's second year participating in HomeAid's Project Playhouse.
###