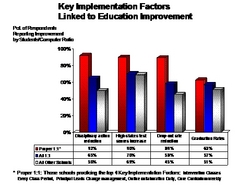 Phoenix, AZ (PRWEB) October 21, 2010
The Project RED (Revolutionizing Education) research team today unveiled a major new study at the National School Boards Association T+L conference in Phoenix that points to the reasons why some technology implementations in schools are successful and many are not.
According to Angus King, former Governor of Maine, in his foreword to the report, "Project RED is nothing less than a blueprint for remaking American education . . . not through more or better testing, charter schools, longer school days, more or even better teachers, but through fundamentally altering how we do education, the first real change in the process of education itself in a thousand years."
Entitled The Technology Factor: Nine Keys to Student Achievement and Cost Effectiveness, the report surveyed 997 schools in school year 2009-2010 on issues related to school leadership, environment, technology implementations, and instructional and financial impact. Questions regarding 22 independent variables provided insight into 11 education success measures, ranging from graduation and dropout rates to high-stakes test scores and paperwork reduction.
According to Project RED coauthor Tom Greaves, CEO of the Greaves Group, "Data gathered over the years had indicated that a few pockets of excellence have transformed schools with technology using specific implementation strategies. The urgent need to understand those strategies provided the impetus for Project RED, and the findings are clear—nine key implementation factors (KIFs) are clearly linked to the 11 education measures (ESMs). We are delighted to be able to help policymakers and schools move toward greater academic success and cost savings by revealing these previously unknown connections."
The Project RED report details how nine key implementation factors are linked to improved test scores and graduation rates and reductions in disciplinary actions and dropout rates. The key implementation factors identified by Project RED include use of technology in every intervention class, skillful change management leadership by the school principal, a strong student/computer ratio, and the integration of technology into core subjects at least once a week (see graph). "Project RED is the first large-scale study to identify and prioritize the factors that make some technology implementations perform dramatically better than others," said Project RED coauthor Jeanne Hayes, President of the Hayes Connection. The report also outlines the implications for educators, policymakers, and industry, with detailed commentary from the Project RED team.
In addition, because little work has been done on the financial impact of education technology, Project RED looked at the cost savings, cost avoidance, and revenue enhancements that result from technology implementations. "The report shows how reducing the number of dropouts through the use of technology provides a huge area of savings—over $56,000 per student in tax revenue alone," said Project RED coauthor Michael Gielniak, Director of Programs and Development at the One-to-One Institute, a national non-profit that provides consultancies for education technology implementations.
While business and industry have reaped substantial benefits from technology, public education has seen only isolated improvements. "Project RED seeks to define technology models that can be replicated by schools across the nation, to assure consistent improvements in academic performance and financial value from future education technology investments," said Project RED coauthor Leslie Wilson, CEO of the One-to-One Institute. The report includes a roadmap to large-scale technology implementations designed to guide schools as they embark on their journey of transformation.
Intel provided lead sponsorship for the survey, with additional sponsorship provided by Apple, the Pearson Foundation, Qwest, and eChalk, and support from the National School Boards Association, the American Association of School Administrators, the Association of School Business Officials International, the State Education Technology Directors Association, the Consortium for School Networking, the International Association for Online Learning, and the International Society for Technology in Education.
The report is published by MDR. For more information or to order, contact Beth Varga at 1-800-333-8802.
###