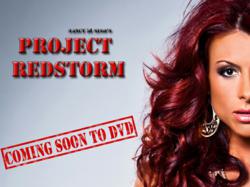 " Project Red Storm on demand allows me to have a presence and virtual reality that I can share with people right from the comfort of home. A personal virtual trainer is as good as it gets being one on one right at your finger tips." Says Nancy Di Nino
Toronto, Ontario Canada (PRWEB) November 30, 2011
"Project Redstorm" on demand Virtual video series featuring Fitness Celebrity Nancy Di Nino is now available for her official fan page members, limited engagement only at http://www.facebook.com/nancydininofitnesscelebrity.
Project RedStorm 's Official DVD launch is scheduled for 2012, yet, Nancy gives her avid worldwide fans a sneak peak on what is up and coming in 2012 taking you behind the scenes of her reality video. Project RedStorm gives you a back stage pass to this Chameleon of Fitness . From her Fab- u-lous lifestyle, VIP appearances , interviews, on set photoshoots, and of course her unorthodox training segments .
First up, Project RedStorm presents "Dare to be down, dirty and dynamic" with her grueling workouts alongside her strength and conditioning coach. G.I. RedStorm takes you to the base with her military and functional training style that is bound to shed those pounds to a lean stellar physique. Join Nancy and let her be your "Virtual Personal Trainer" on demand.
Catapulting herself to fitness celebrity status Nancy Di Nino is a Personal Trainer, Cover Model and Media Personality fusing fitness, fashion, beauty, and Bravado all in one dynamic package. But don't be fooled Nancy is a chameleon of fitness and ready to take her fans through the reality of rolling with Project Redstorm. As a fitness expert, Nancy's vast knowledge of nutrition and training allows her to inspire fitness enthusiasts worldwide being their on demand "Virtual Personal Trainer".
"Project Redstorm on demand allows me to have a presence and virtual reality that I can share with people right from the comfort of home. A personal virtual trainer is as good as it gets being one on one right at your finger tips." Says Nancy Di Nino
To access this limited virtual video engagement please become a fan at Facebook.com/nancydininofitnesscelebrity
###