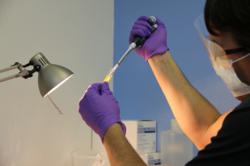 Project Walk is the first place that gave us hope that it is possible to recover from a spinal cord injury.
Tampa, FL (PRWEB) May 14, 2013
Project Walk Spinal Cord Injury Recovery Center is proud to speak at this year's USSOCOM Care Coalition Conference in Tampa, FL. This conference is in conjunction with the Special Operations Forces Industry Conference and brings together all aspects of Wounded Warrior care. Project Walk provides recovery programs designed around industry leading research and client care programs to increase mobility in clients who have a spinal cord injury. The Dardzinski Method® gets people out of their wheelchair, gives them hope and increases their quality of life.
The focus of this year's conference is on mental health, the commitment to Wounded Warriors and their families, advocacy, care, and transition initiatives for Special Operators. Project Walk's mission mirrors these areas with over a decade of experience working with individuals affected by paralysis. Program options for military personnel would include home recovery options and facility programs that allow for individual growth, education, support and encouragement.
Project Walk's presentation at this year's Care Coalition Conference focuses on past and current research efforts that include a four-year bone density study and the effects of activity-based recovery on spinal cord injuries. The bone density study, funded by the National Institute of Health (NIH), will also be presented in Chicago during the American Spinal Cord Injury Association's Annual Meeting.
"We feel honored to be a part of this amazing conference and look forward to the potential of offering our services to the men and women who bravely defended our country," says Tim Yates, Chief Executive Officer, Project Walk Spinal Cord Injury Recovery Center. "With Project Walk headquarters located a short drive from Camp Pendleton we could immediately provide our services and program options to the military community."
Project Walk is the world leader in spinal cord injury recovery more with than a decade of experience activity-based therapy. The programs offered help to provide an improved quality of life for people with a spinal cord injury through intense activity-based recovery programs, education, training, research and development. The Project Walk brand consists of a global network of franchised and licensed locations encompassing both for and nonprofit entities. Being the pioneer in activity-based recovery programs, and with over a decade of experience, its staff is on the cutting edge of this emerging field. Each location across the globe is staffed with highly qualified Spinal Cord Injury Recovery Specialists who treat thousands of client hours every year from more than 25 countries and 6 continents. The Worldwide Headquarters, located in Carlsbad, CA, provides clients with a state-of-the-art 24,000 square foot facility designed to not only treat clients but to teach other professionals about The Dardzinski Method. Project Walk is the only center, not attached to a hospital or university, that has published research in peer-reviewed journals and has ongoing grant-funded research projects.