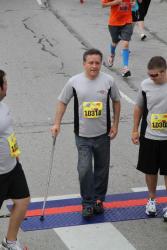 Overland Park, KS (PRWEB) May 10, 2012
Project Walk-Kansas City, formerly known as Quest to Walk, began participating in the Hospital Hill Run in 2009 as one of the very first local, non-profit charity partners. The goal was simple; help raise money and awareness for spinal cord injury (SCI) recovery. More than 200 runners have participated on behalf of people suffering from SCIs and more than $70,000 has been raised since 2009, making Project Walk-Kansas City one of the most successful charity partners. The success of this relationship has also helped spark an influx in disabled athletes that participate in the wheelchair portion of the race each year. The Overland Park based spinal cord injury recovery center hopes to continue its success during the 39th annual Hospital Hill Run on June 2nd, 2012.
Even though Project Walk-Kansas City has experienced a tremendous amount of support through the Hospital Hill Run, there is still a lot of work to be done. Each year, there is an estimated 11,000 new SCIs in the U.S. The typical expenses of an SCI during the first year can range anywhere from $150,000 to more than $400,000. Most of these expenses do not include any extended rehabilitation or physical therapy. Project Walk-Kansas City offers aggressive, exercise-based programs specifically for people with SCIs that are designed to help the recovery process and improve the quality of life, instead of simply teaching people how to live in their chairs. As a non-profit organization, Project Walk-Kansas City's program is considerably cheaper than many rehab facilities, however, due to the lack of assistance from health insurance, most people with SCIs cannot afford to participate in the program. Donations and fundraisers help our clients continue to attend the program on a regular basis. The road to recovery is an incredibly slow process, which requires constant work. In most cases, our clients should attend the program for two to three hours per day for two to three days per week. If these minimums cannot be maintained, the progress can be very limited.
If you are interested in helping people with spinal cord injuries receive the proper care they need to live a longer, healthier and more independent life, call Project Walk-Kansas City to find out how you can participate with us in the Hospital Hill Run or even make a general donation.
Project Walk-Kansas City is an Overland Park, KS based company that provides an aggressive, exercise-based spinal cord injury recovery program to people suffering from spinal cord injuries. Founded in 2008 and formerly known as Quest to Walk, Project Walk-Kansas City is the only non-profit facility of its kind in the Midwest. For more information, please call 913.451.1500 or visit http://www.projectwalk-kansascity.org.